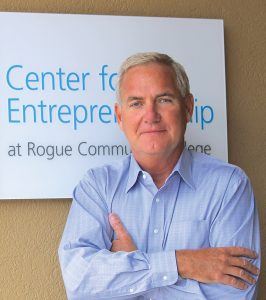 Do you have a "can't miss" business idea?  Is it time to turn that dream into reality?  Do it right with help from the Avista Center for Entrepreneurship. Sponsored by Avista Utilities, the program objective is to provide students with more than just a course in entrepreneurship. Participants learn skills that can be applied to business ideas and concepts throughout their lives and careers whether starting a business, buying a business, or working as an entrepreneur within an organization.
"Southern Oregon is ripe with entrepreneurs seeking a self-fulfilling independent career path," says Steve Vincent, Avista's regional business manager for Oregon. "We admire these people because they're risk takers and they have vision." There are people right now with business plans or concepts ready to launch who know they first need to acquire the fundamental business skills so many others before them have had to learn through trial and error or failure. "This training at Rogue Community College is designed for any start-up no matter the size, and any aspiration or vision is welcome," Vincent adds. "This curriculum is an accelerated path to launch."
Courses are taught by Tim Busald, business advisor for the Small Business Development Center (SBDC). Economic development in rural communities across America happens "one business at a time," and Tim is passionate about helping the local community thrive through working with start-ups and entrepreneurs.
"The Avista Center for Entrepreneurship supports aspiring business owners with a variety of resources providing a holistic approach that enables the successful launch and long-term success of the business venture," he says. "Ultimately, it's about helping people succeed, and that is what's going to build our community."
The Avista Center is available to traditional and non-traditional students. For example, someone studying welding or massage therapy at Rogue Community College who wants to be self-employed upon graduation can enroll while earning a certificate or degree. It is also offered as a stand-alone training for community members interested in developing a business idea and procuring funding.
Courses are offered in modules over a three-term period. Participants also receive ongoing support and mentoring from Tim and other SBDC business advisors during the program and post-graduation.
For more information about the Avista Center for Entrepreneurship or to apply online click on the link. You may also contact the Rogue Community College Small Business Development Center at (541) 956-7494.