Learning through doing. That's the focus of the maker movement, a cultural trend picking up steam throughout the country that encourages people to make things rather than just consume them.
The idea behind the maker movement is that if we can give people the tools and the space to create, we can generate a society of innovators, inventors, and self-sustainers who will make the world a better place. Many communities are launching facilities where "makers" of all ages and interests can gather to learn, tinker, and collaborate. In Grants Pass, Rogue Community College is leading the way with the new Rogue Innovation Hub, a makerspace located downtown in the former Firehouse Gallery.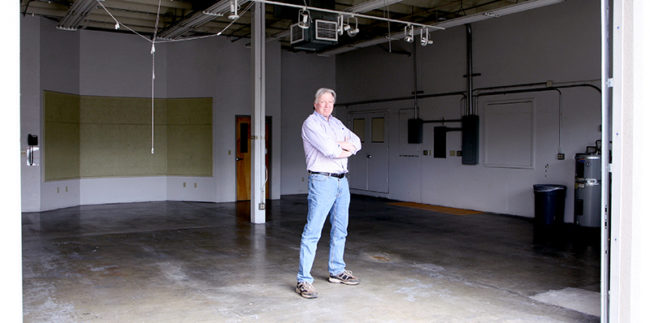 Underway since 2018, the Hub is a place where students, businesses and local residents can come together to develop products and test their skills in technology, science, engineering and art. RCC faculty are actively involved in planning, operating and growing the Hub's role in our community. And now under the leadership of a dedicated director, Tracy Thompson—a talented and innovative creator with several patents to his name—the Hub is poised to soar as it opens to the public this spring.
"I want the Hub to be a destination in downtown where there is always something going on and new, where people can come to learn, be inspired and try new things," Tracy said. Anyone is welcome, whether to simply stop by and visit, to take a class, or to become Innovation Hub members with access to the entire range of tools and equipment available on site. Tracy hopes to
create an environment that "transitions from the 'I can't' way of thinking to the 'I wonder'
and then the 'I didn't know I could do that' way of thinking."
More than just a makerspace, the Hub is also an incubator for new businesses and for people looking to upgrade their skills. "The goal of the Innovation Hub is to be an integral part of our community and RCC, and to provide access, collaboration and opportunities to everyone," said RCC's Dean of Science, Art and Technology, Kimberly Freeze—a self-professed "serial entrepreneur" and advocate for the maker movement. Kim is especially focused on utilizing the Hub to explore new career pathways and entrepreneurship, "so as to contribute to the economic workforce in our area."
Plans are underway to host exhibits where makers and artists can showcase their work,
as well as a food cart where aspiring chefs can test their products in the market. RCC
technology, science and industrial arts students attend classes in the Hub's state-of-the-art development center, and high school students can also enroll in hands-on classes to try their skills at various industries before choosing what to study in college.
Because the Hub's operating hours will extend beyond RCC's campus hours and those of most local businesses, the building will serve as a resource for students to work on assignments or for inventors to develop their ideas outside of work.
"The Innovation Hub gives our community a sense of pride and belonging in having a place that brings together bright and talented people," Tracy said. "It's a community asset that will provide a range of benefits both tangible and intangible."
The Innovation Hub is joint effort between RCC, which owns the building, and the City of Grants Pass, which is funding the equipment. In addition, several community partners are involved including Avista, Pacific Power, and the USDA, which provided a grant to get the Hub up and running. Everyone involved in this exciting endeavor agrees on one thing: makers are the key to our future.
"Innovation comes from taking chances," Tracy said, "and here at the Hub there is no
such thing as failure, just opportunities to learn."
To learn how you can take advantage of all the Innovation Hub has to offer, email
tthompson@roguecc.edu or call 541-956-7487.