Rogue Community College is working with the City of Grants Pass and community partners to develop an innovation hub/makerspace in Grants Pass.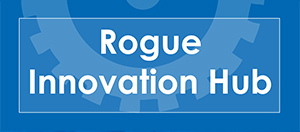 What are makerspaces and innovation hubs? In general, they are places where people get together to create, invent, tinker, explore and discover things collaboratively, using a variety of tools and materials. They take many forms and can focus on anything from computer programming and fabrication to design and artisan crafts. It all depends on the goals of the space.
RCC is looking to create the Rogue Innovation Hub in downtown Grants Pass in the former Firehouse Gallery. The City is providing financial support, and many community partners are participating.
"RCC is committed to being a partner with local organizations to grow our community," says Ron Goss, director of the RCC Small Business Development Center. "Grants Pass has a thriving downtown, and the Rogue Innovation Hub could provide a shared space right in the middle, where people explore and learn, and entrepreneurs make new products." The hub will provide technology and tools for a hands-on interactive learning, demonstration and development environment. Young people can experience technologies and discover possible career paths, and community members may collaborate on innovative
ideas and products.
The hub will serve multiple functions:
A partner facility for RCC Career Technical Education and Tech Center programs
A development center for new RCC training and education programs
A host for support of science, technology, engineering and math or STEM workshops for schools K–12
An outreach space for programs for general, non-academic community use
A catalyst for entrepreneurial ventures and product development RCC hopes to launch the space, which is already in development, with community support, by spring 2018.