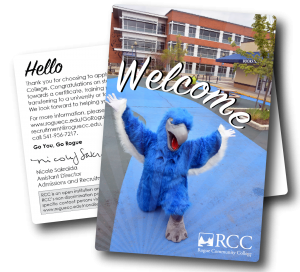 The marketing department of Rogue Community College recently earned several Medallion Awards for excellence in marketing from the National Council for Marketing and Public Relations (NCMPR), a national organization for marketing in two-year colleges. The awards were presented at the Pacific Northwest District 7 Conference in Boise, Idaho in October.
RCC earned the following awards:
• In the Microsite category, a silver award for the design of a new website for the RCC Small Business Development Center.
• In the Flyer Series category, a silver award for "Marketing Toolkit," an internal flyer advertising marketing services available to the RCC community.
• In the Postcard category, a bronze award for "Welcome," a postcard mailed to newly admitted students from RCC mascot Ossie Osprey.
• In the Marketing Campaign category, a bronze award for "RCC Works," an integrated campaign of videos, web ads, billboards, social media, printed literature, email marketing and other tactics featuring graduates who work at local businesses and endorsements from their employers.
"I am very proud of the marketing team," said Grant Walker, RCC marketing director. "All of these outstanding efforts were imagined, created and delivered by them."
Walker noted there were great results from these award-winning campaigns. For example, the "RCC Works" campaign resulted in over 2 million views, 105,000 site visits and 1,000 applications for admission to the college.
The welcome postcard, mailed to newly admitted students with the next steps to enrollment, resulted in a 15 percent increase in new students who said they received an RCC marketing message by mail.
"This was a great collaboration with our recruitment department," Walker said. "We don't know how much this affected these students' progress to enrollment, but we do know they remembered the postcard, and we did see an uptick in new admits completing the process to registration."
The NCMPR Medallion Awards recognize excellence in design and communication. One gold, silver and bronze award was given in each category at the district level. There were entries from 22 community colleges from Idaho, Oregon and Washington.
RCC's entries in the Microsite and Flyer Series categories will be submitted to the national competition in March.