Most people try to avoid software bugs. Brett Lapierre goes looking for them.
As a quality assurance technician for Microvellum Software, Brett's job is to replicate and verify reported bugs in the company's woodworking software before passing those bugs on to a team of developers to get fixed. Every day he diagnoses and troubleshoots software issues—and loves every minute of it.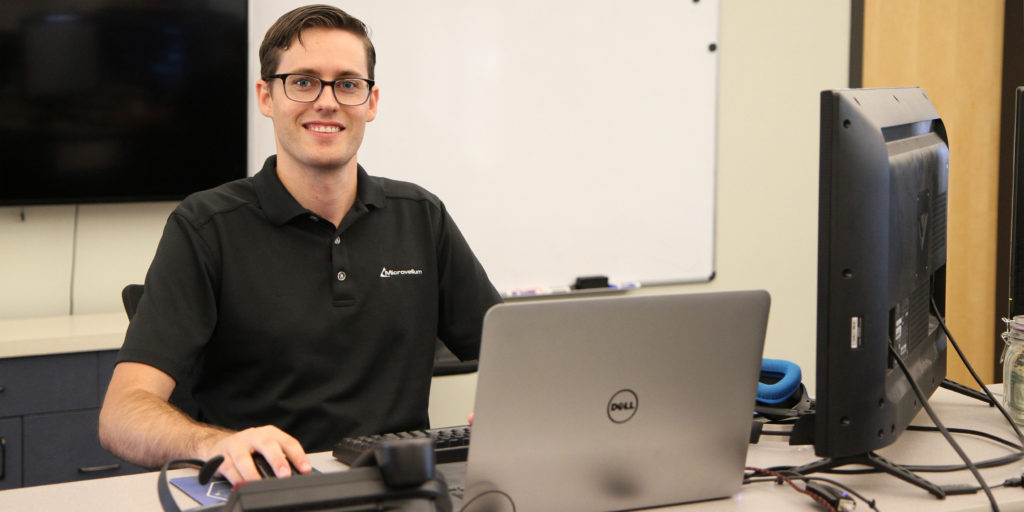 A graduate of RCC's computer science program, Brett originally planned to transfer to a university, but he discovered he could secure an excellent job at Microvellum Software with his associate's degree alone.
"I decided that RCC was just that foundation I needed to get my foot in the door," Brett said.
Brett has been working at Microvellum for nearly a year now, and he plans grow into a software engineer role. He believes RCC prepared him well for this career path. "One of the important things I had at RCC was work study, which was really amazing because I was able to focus on my studies while I was working, which was really helpful. A lot of the classes at RCC—the programming classes, the database classes, the technical writing classes—really prepared me professionally to move forward."
Brett also says RCC's equipment left nothing to be desired. "The technology that we had access to was fantastic; we had all the Microsoft products we needed. We had all the processing power we needed, all the newest graphics—you name it, and we had it," Brett said. "RCC was a great platform to springboard off of into the professional world." 
Brett was drawn to Microvellum Software because of the company's unique products within an industry he enjoys. He interviewed and got a job offer immediately after completing his program at RCC. "It was really cool to see it all come together because I already had a job lined up right after graduation," he said. "It took a lot of hard work, and getting through college is not easy, but if you have the will and the strength, RCC is definitely a great option."
Several of Brett's co-workers are also RCC students and graduates, which creates a fun connection in the workplace. It also serves as a reminder that RCC is an excellent training ground for good jobs right here in the Rogue Valley. Microvellum Software's president David Fairbanks agrees. 
"Finding talent is always a challenge, especially in this industry, and the combination of software and woodworking makes it very interesting. So finding talent using resources like RCC has been a benefit for us," David said. "When Brett came here, he was able to hit the ground running and get into our culture and fit in with the guys here and the way they work. He is a great employee."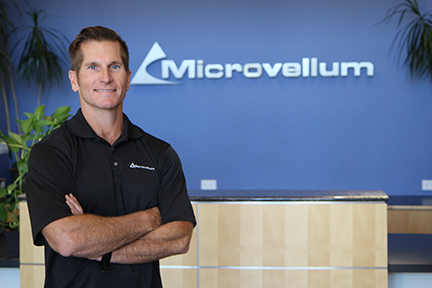 Microvellum Software's mission and vision is to groom and equip leaders so they can streamline and grow. David explained, "When Brett writes some line of code or tests something, he is actually working to help the guys on the other end of that computer screen who want to become leaders to streamline and grow as well—and that's our mission." 
David believes producing a product is a shared responsibility between the employer, student, and school—like a three-legged stool. "When you come right out of school, there's a lot of great knowledge that the RCC student has, and it's our responsibility to help hone those skills into exactly what we need as the employer. And it's the student's responsibility to really begin to connect those dots between what they learned in the lab at school and the reality of working and making themselves be a leader that way," David explained. "So, absolutely, RCC can provide a technical background—and we need more and more of that in this industry for sure." 
Brett's experiences at RCC and Microvellum have sparked a lifelong love of technology. He is now expanding his knowledge through self-study during his off hours. "Usually when I go home, after I hang out with my wife, maybe watch a few shows, then it's game time," he said. "I'm putting in a lot of extra hours on my own, developing and coding and honing all these skills. I have a desire to keep progressing with both my personal and professional life."
An avid supporter of RCC, Brett recommends community college hands-down over a four-year university.
"If you're serious about going to college, RCC has all the resources that anyone could ever need to get you started, whether that be scholarships, work study, access to technology, the teachers, the support from the staff. My advisor and instructors were phenomenal, and now I count many of them as friends."
Most importantly, Brett says community college is the best bargain out there. "When people go and get four-year degrees, they'll start at a university, and to me that doesn't make sense because you can get the same or better education those first two years more affordably at community college and then go to the four-year university. So for me it was no-brainer—RCC all the way. It definitely saved me a lot of money and, yeah, I'm pretty happy about it." 
Find your path at RCC. Learn more about our computer science programs and other degree options at roguecc.edu/start.