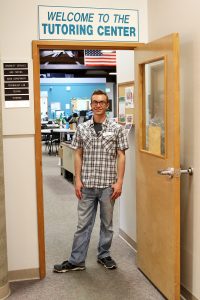 Rogue Community College is taking steps to improve student learning through better training for its peer tutors, who now have the opportunity to become internationally certified. The college offers 33 peer tutor student worker positions through two departments, Academic Success and the University Transfer/TRiO Student Support Services program.
Free tutoring is available to all students enrolled in credit classes at RCC. The primary areas of tutoring are math, writing and science; however, tutors are prepared to cover most subjects.
New this academic year, RCC is providing peer tutors with the opportunity for advanced training and certification using the College Reading and Learning Association's International Tutor Training Program. Six peer tutors have completed the international certification: Sage Bushman, Braden Pennington and Jeremy Smith provide tutoring in the Academic Success Tutoring Centers. Brandon Nelson, Blake Bigham and Jessa De Lyon work as tutors for the Riverside Campus RCC University Transfer/TRiO SSS, a federally funded program that supports eligible students who plan to transfer to a four-year university.
The College Reading and Learning Association's International Tutor Training Program is designed to help peer tutors provide better support to their fellow students. As a CRLA-certified tutor training program, RCC is authorized to provide training and certify student tutors who have met the requirements. Marie Maguire-Cook, chair of the RCC Academic Success department, is a CRLA-certified trainer.
College Reading and Learning Association certified programs demonstrate high standards such as:
Providing recognition and positive reinforcement for tutors' successful work;
Setting professional standards of skill and training for tutors;
Augmenting program credibility for administrators and institutions.
The College Reading and Learning Association launched the International Tutor Training Program Certification in 1989. More than 1,000 college tutor training programs around the globe have received certification. These programs have recognized thousands of certified tutors, advanced tutors and master tutors. In addition to having advanced skills for tutoring their peers, certified tutors are eligible to apply for special scholarships through the CRLA.