GRANTS PASS — In celebration of the grit and determination of 512 graduates who persevered to complete their programs despite the challenges of the coronavirus pandemic, Rogue Community College will host a drive-through "Carmencement" on the Redwood Campus to mark its 50th Commencement on Saturday, June 19, 2021.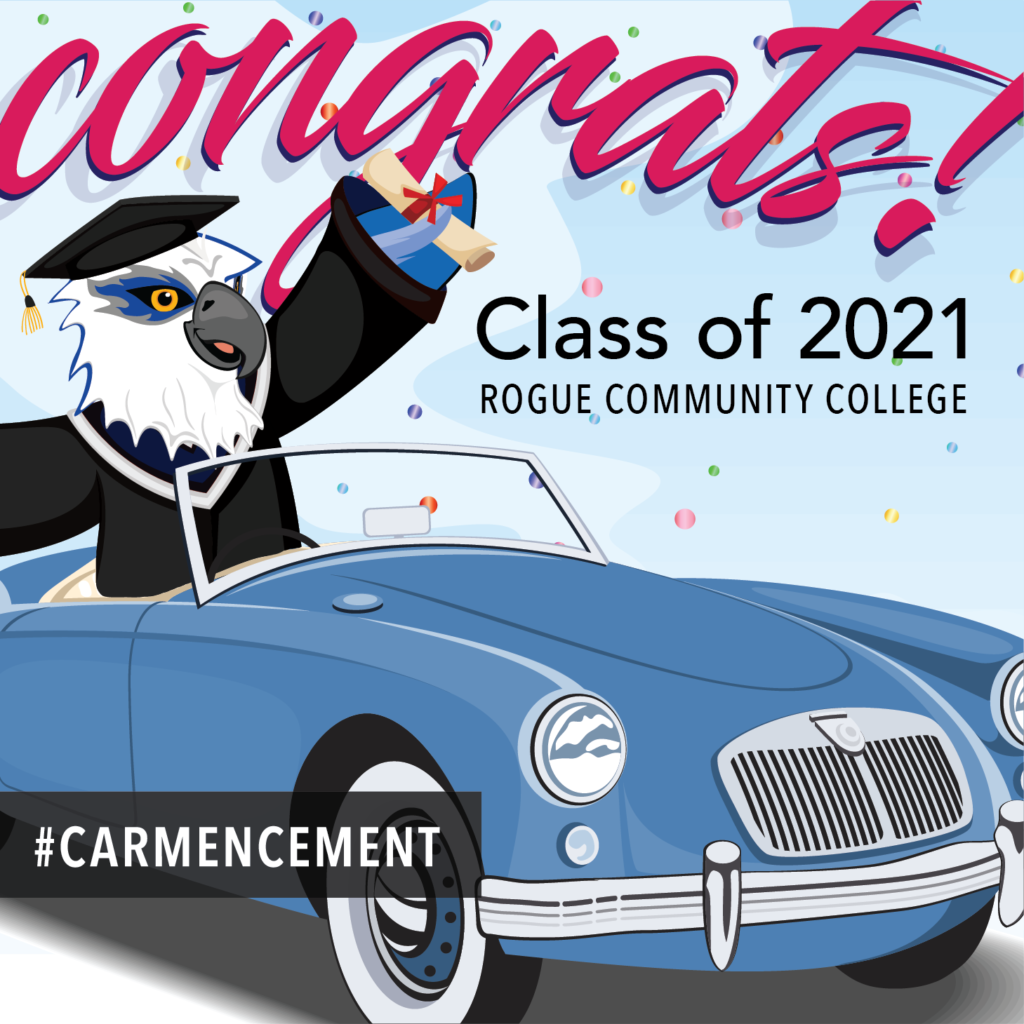 "While we continue to practice social distancing, we are very much looking forward to a fun, in-person ceremony that will offer the graduates and their families as well as RCC faculty and staff an opportunity to celebrate the accomplishments of the Class of 2021," said Vice President of Student Services Kori Ebenhack, who will serve as master of ceremonies.
Students who earned a degree or certificate in 2021, as well as 2020 graduates who had a video commencement in lieu of an in-person ceremony, have been invited to a drive-through event Saturday morning at the Redwood Campus where staff and faculty will cheer them on parade-style. Participants are limited to one car per graduate; decorations are encouraged. Graduates will have an opportunity to stop and walk across the commencement stage.
At a future date, the college will release a video with highlights of Saturday's ceremony as well as pre-recorded remarks by RCC President Cathy Kemper-Pelle; Shawn Hogan, chair of the RCC Board of Education; Tracy Redd, faculty representative; and three student speakers.
Three top graduates were selected to deliver commencement addresses:
Madison Jenae Munyon, representing Josephine County, completed a dental assisting certificate with a 3.9 GPA.
Chloe Zee Hanson, representing Jackson County, completed a medical assisting certificate with a 4.0 GPA.
Natasha Renee Robinson was selected for the 2021 All Oregon Academic Team, an honor recognizing high-achieving two-year college students who demonstrate academic excellence, leadership and service. Robinson has earned an Associate of Arts Oregon Transfer (AAOT) degree and an Associate of General Studies (AGS) degree with a 4.0 GPA.
The RCC Class of 2021 includes 512 graduates who earned a total of 437 degrees and 193 certificates; 107 students earned more than one degree or certificate; and 11 students completed three degrees or certificates. This year's graduates averaged an impressive 3.43 GPA. Twenty-three students maintained a perfect 4.0 GPA.
This year's class includes three graduates who are 17 years old, and the oldest graduate is 63. All four earned associate degrees. The average age of students earning degrees is 28; the average age of students earning certificates is 31.