What can the Avista Center for Entrepreneurship do for your business dreams? Here are three graduates and their businesses.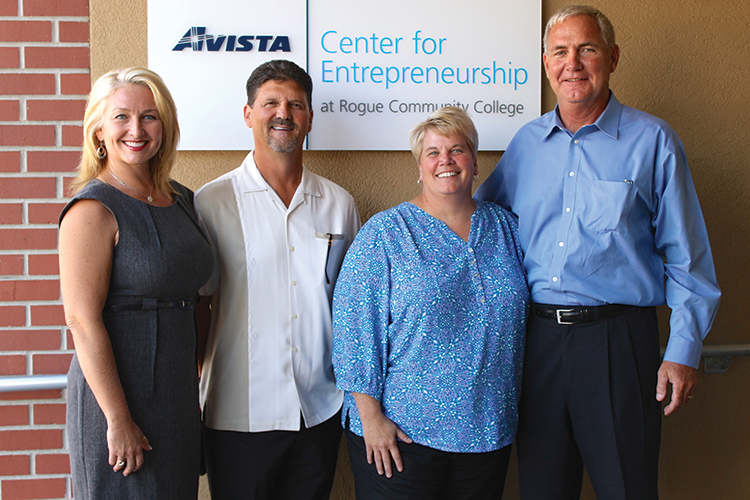 Kimberly R. Chaplin—Creative Insurance Options
After 26 years working at all different levels of the financial and insurance industry with frequent travel, Kimberly decided to stay local and spend more time with her family.  With the help of the Avista Center for Entrepreneurship she planned, developed, and launched Creative Insurance Options, LLC.  With an office in downtown Medford, she is providing local service that gives people peace of mind in making insurance and investment decisions.
"At first, I wanted to do something different," Kimberly says. "After so many years doing the same thing I wanted a change."
Her instructor, Tim Busald,  suggested that learning to run her own business would be much easier if she used the finance and insurance knowledge she had already built over the years rather than learning a new industry.
"And he was right," Kimberly says.  "It worked and now I love being a business owner!"
Kim says a great added benefit is she still has access to Tim and the Rogue Community College Business Department.  "Even though I have completed my courses, I can refer to Tim for guidance and help."
Terry Toner—Elder Care Development, LLC
Terry Toner and his wife, Karen, were attending a local networking event when they first heard about the Avista Center for Entrepreneurship.
"There were two seats left for the upcoming session," Terry says, "and we intuitively knew those two seats were ours."
Terry first came to the course with an idea for a product, but he soon realized he could apply what he was learning to his career passion for real estate development. As co-owner of Elder Care Development, LLC, Terry plans to build assisted living memory care facilities beginning with a location in Central Point, which will employ 85 to 90 people.
"The program helped me gain a greater understanding of what it would take to get this new business off the ground," he says. "The course helped me build a road map as well as define our goals, and I now have a business advisor that I feel genuinely cares about our company's future."
Sheri Murphy—Murf's Marvelous Pancakes & Handcrafted Syrups
Sheri Murphy is the owner and creator of Murf's Marvelous Pancakes & Handcrafted Syrups, a new specialty food business recently opened in downtown Grants Pass. When formulating plans for launching her dream, Sheri made the important decision to first enroll in the Avista Entrepreneurship training.
"I was particularly drawn to the curriculum as it covered all facets of owning and running a business," Sheri says.
She had some previous business experience but had not taken formal classes and was determined to "do it right" this time. Sheri says the course material was very extensive and broke down each section of her business plan so that she fully understood what part it plays in the whole business structure. Most importantly, the program championed her success.
"I love food, I love to create outrageous syrups and deliver a culinary experience like no other," Sheri says. "This program has helped me do just that!"