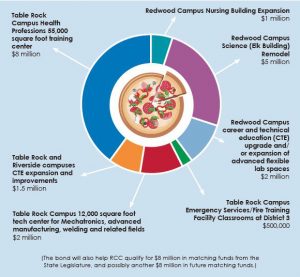 In May 2016 the voters of Jackson and Josephine counties showed their support in passing a $20 million bond for Rogue Community College to finance construction and improvements of facilities.
"We are very thankful," said RCC President Cathy Kemper-Pelle. "We are committed to working with our community partners to make the best use of these funds to better prepare local people for good paying local jobs and transfers to four-year universities."
On July 12, 2016, the bonds were issued. Due to RCC's solid financial record, they were rated as premium bonds, which sell at a higher rate. This is preferred by investors as they also offer a higher yield.
The bond issue went well, with a premium amount of $3.3 million and an interest rate of 2.13 percent. This means the bond will raise $23.3 million.
Rogue Community College was also eligible for $8 million in matching funds from the state for health occupations training. Those matching funds will be released by the state when RCC has put $8 million toward the Allied Health Occupations project.
Rogue Community College will request another $8 million in matching funds from the state during the Oregon legislative session next year.