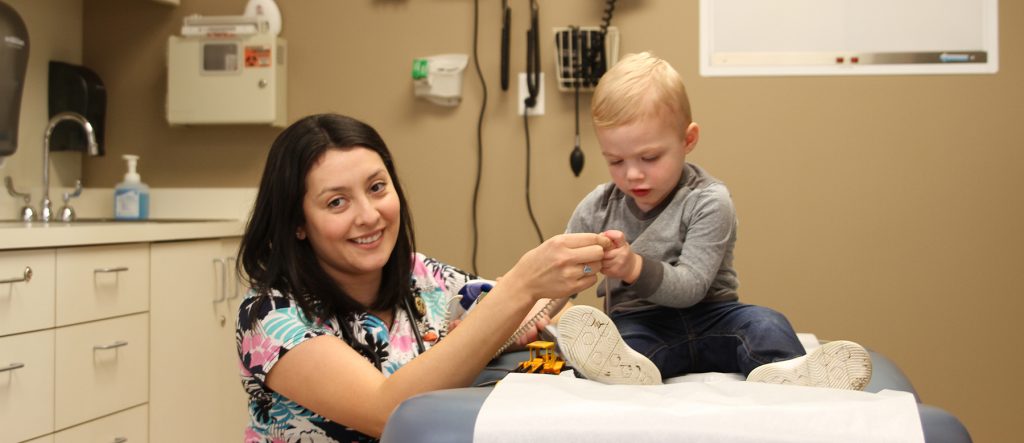 Jobs in the health care field are projected to grow 18 percent between 2016 and 2026, according to the US Bureau of Labor and Statistics. That's more anticipated growth than any other occupational group, resulting in about 2.4 million new health care jobs over a decade.
"Health care is a great field. It has a lot of avenues of opportunity for growth," says Karline Kleker, practice manager for Asante's primary care clinic in White City, Oregon. "It's high-demand. There's always opportunity to help others."
Rogue Community College (RCC) offers multiple paths to prepare students for health care careers; from the one-term phlebotomy certificate program to the associate degree nursing program that takes about three years to complete.
"I like that in the health care industry you can go different places," says Sarah Villagran, a graduate of the RCC medical assistant program. "There are a variety of jobs, and you can move up."
Medical assistants are often the first person the patient has contact with when they enter a medical clinic, and the job can be a great foot-in-the-door to the health care field. In just three terms, RCC medical assistant students learn how to assist physicians in providing patient care, including taking vitals, reviewing medications and providing administrative tasks such as recording patient information into the electronic medical records system.
"I really enjoy working with people and helping them," Villagran said. "Starting as a medical assistant, I'm really enjoying it; seeing what the doctors are doing, people in the front office, even management. It's a great way to start and just look and see where I want to go further."
The RCC medical assistant program is a three-term program with most courses offered online or in the evening. In the second term, students start gaining hands-on clinical experience on-site at a local medical facility. Medical assistant students also have the option to become certified in phlebotomy, increasing their job opportunities.
"I really liked that RCC offered a phlebotomy program," Villagran said. "I also really liked that they offered classes later in the day, and I was able to keep my full-time job."
Villagran completed her externship alongside medical assistants at Asante's primary care clinic in White City. After graduation, she was hired to join to the Asante team.
"We had a great experience with Sarah," Kleker said. "She was very eager to learn. She had the confidence and ability to use the skills she was taught in the classroom on day one."
To date, Asante's primary care clinic in White City has hired three medical assistants straight out of the RCC program.
"One of the things that I really appreciate about the RCC medical assistant program is that students come to our clinics prepared to learn," Kleker said. "They're eager, they know the questions they should ask, and they come with great work ethic."
Working in the health care industry for 16 years, Kleker said she enjoys the day-to-day variety of her job, and the opportunities to lead a team in her role as practice manager. "There's a lot of different job opportunities in the health care industry, from administrative to clinical roles, medical assisting, nursing, clerical, and administrative support. There are a lot of job opportunities that are supportive to health care as a whole."
Villagran is uncertain where her future will lead, but for now she feels she's on the right path.
"There are many different careers in the medical field, and there's definitely something for everyone," she said. "Just knowing that I helped someone today is a really good feeling, and I like that about being a medical assistant."