Dan Petersen is not a professional photographer. Forty-two years ago, he might have been surprised to hear that.
Originally from Chicago, Dan moved west with his mom in the late '70s, graduated from high school and adjusted to life in a smaller community. He got a job at a local camera shop and decided to enroll in the Rogue Community College Associate of Arts Oregon Transfer program to pursue photography.
Little did he know chemistry class would set him on an entirely different path.
Not because of chemistry—but because of a classmate.
Intro to Firefighting
Dan met a fellow student who worked for the local fire service. He told Dan the new Valley Fire Service station (now known as Rural Metro) was looking for more people to join the firefighting crew. So Dan applied and was hired as a resident firefighter.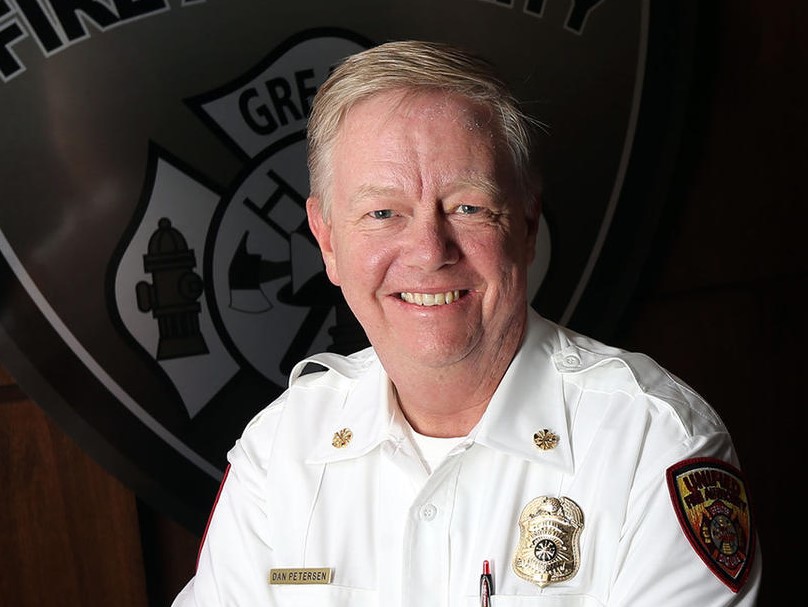 "This allowed me to move into the fire station and begin training to respond with the paid crew while I continued school," Dan said. At first the fire station was just a change of scenery and a place to stay. Dan also kept his job at the camera store as he wrestled with the idea of making photography his career.
But then he had his lightbulb moment.
"After working in the fire station for a while, it hit me that the fire service might be the career I was looking for," he said. "I switched to a fire science degree before I even finished my transfer degree."
That decision was the spark that propelled Dan into his life's purpose.
Shortly after switching majors, Dan was offered a full-time firefighter position with Valley Fire Service. He took the role while continuing his education at RCC. He credits the college's fire science program with helping him expand his knowledge and skills and preparing him for positions yet to come.
"RCC offered a great combination of classroom and hands-on instruction from people who were doing the job," Dan said. "It was real, timely, and current with the nation's practices at that time. The instructors were seasoned firefighters who also loved the idea and practice of higher education."
Continuing Ed
As Dan began to understand the field of fire service and its focus on improving life for citizens, he saw a need for highly educated people to serve in leadership positions.
"Leadership in fire services requires you to understand people, understand the economy, work with developers, develop and manage budgets, work with the community and elected officials, and clearly understand how to strategically help the community reduce their risk in an affordable and sustainable manner," he said.
That's why he went on to earn his bachelor's degree in fire administration from Western Oregon State University and his master's in management from Southern Oregon University. He also completed the Executive Fire Officer Program at the National Fire Academy.
Giving Back to RCC
Even before he finished his degree at RCC, Dan was invited to help teach in the EMS training program and then with the Fire Science program. In 1989, after finishing his associate degree and working for 10 years as a firefighter, he was invited to become the RCC Fire Science coordinator, all while still working his full-time shift at the fire station.
It was a win-win situation for both sides.
"I enjoyed teaching and felt that I was learning as much or more than the students," he said. "It enhanced my enjoyment of my career and exposed me to some fantastic people that were attending my courses."
Dan continued to climb the ladder, so to speak, and in 1991 he became the battalion chief/training officer for the Medford Fire Department. In 2010 he was named fire chief for Jackson County Fire District #3 and held that position for six years. Dan's core values made him an asset in and out of the classroom.
"I tend to lead as a teacher and coach, with the goal of being a servant to the people who support the vision and have the right motivation and values required to make a positive difference in the community" he said. "Teaching is a fantastic way to strengthen that style of leadership."
Where He Is Today
Since January 17, 2017, Dan has been serving as the fire chief for the Unified Fire Authority in Salt Lake City, Utah. He is the chief executive officer of a fire agency that serves more than 430,000 people, overseeing more than 650 employees in the greater Salt Lake area. Dan works directly for a board of directors made up of 17 mayors and is accountable to 80 elected officials.
The Unified Fire Authority (UFA) is focused on providing quality service, strong value, and engagement within the community. Dan is responsible for the fire and rescue services in 15 municipalities and the unincorporated area of Salt Lake County. "We have a very diverse system—serving the densest population in Utah, four major ski areas in remote areas of the canyons, and an urban search and rescue team that responds all over the country—including sending over 80 firefighters to Southern Oregon last summer during the devastating fire in Phoenix and Talent," he said.
Ultimately, Dan relishes being in a career where he can make a difference. "Firefighters make an incredible difference in people's lives almost every day they come to work," he said. "Sometimes it is saving people in a house fire; other times it's stopping to help someone change their flat tire during their bad day."
Overall, Dan says, the job of the fire service is to make life better for the people in the community. "We spend time looking for those opportunities and training to be able to safely and effectively stop problems like a fire, a heart attack, car accidents, hazardous material spills, or even a plane crash," he explained. "We go to work never really knowing what problem we will be asked to solve that day, so we are always challenged in our learning and development. Who on earth would not enjoy that as their job!"
Make RCC Your Path to the Future
Dan credits RCC with showing him an option that he didn't even know existed, and in the process, he found his life's passion. "Without RCC I would not have found this career," he said. "I encourage people to utilize RCC to help explore where they can contribute to society and be happy. It is a wonderful climate to learn and grow as you become the person you want to be."
To start the path to your life's purpose, enroll at RCC today.