By Celeste Hettman, MS, NCC, Registered LPC Intern, Certified Body Trust Provider
Do you constantly find flaws with your body, or the bodies of others? Do you feel like you have to change your body in order to be worthy or acceptable?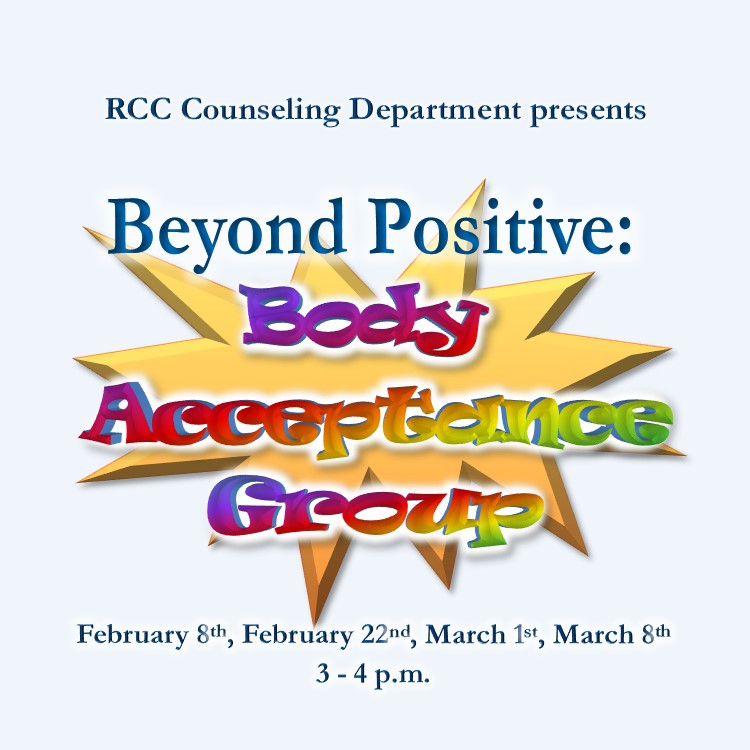 RCC Counseling presents a four-week Zoom group where you can explore body acceptance. Body acceptance goes beyond being "body positive" and supports the development of acceptance and trust toward yourself and your body.
In our group, we will go deeper into what body acceptance is, creating a caring partnership with your body, rebuilding trust in yourself and your body, and finally, how to handle those "bad body days."
The group will meet via Zoom from 3-4 p.m. on Mondays, beginning Feb. 8. You can come for all four group meetings, or just one. Contact Celeste Hettman in Counseling for more information, including the Zoom link.
Feb. 8: What is Body Acceptance?
Feb. 22: Caring for my body: A partnership
March 1: Rebuilding Trust in Myself & My Body
March 8: Building Resilience for "Bad Body Days"