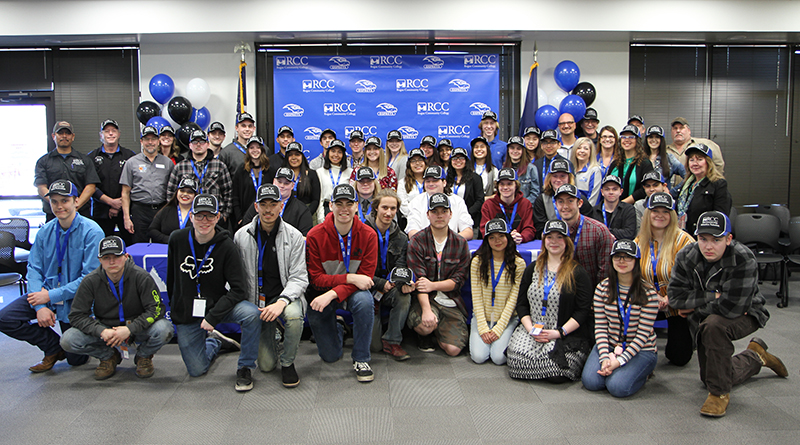 Rogue Community College welcomed and celebrated the futures of 40 students who took a key step toward establishing skilled careers at RCC's 2020 CTE Signing Day. The third annual event was held Thursday, Feb. 13 at the Table Rock Campus in White City.
CTE Signing Day mirrors the NCAA National Signing Day for athletes who commit to play sports in college. At the RCC event, students from nine Southern Oregon high schools committed to study with one of RCC's career and technical education (CTE) programs. Technical education teaches specific career skills that prepares students for a wide range of high-wage, high-skill, high-demand careers.
Students who signed with RCC during the event reserved their spots – and priority registration for fall term 2020 – in one of these highly competitive programs: automotive technology, business technology, computer science, diesel technology, early childhood education, electronics, emergency services, health occupations, industrial welding and manufacturing.
Now in its third year, the event continues to grow. Forty students committed to RCC at this year's event, up from 29 in 2019 and seven at the inaugural event in 2018. This year's participants included students from the following high schools: Ashland, Butte Falls, Crater Renaissance, Eagle Point, Grants Pass, Hidden Valley, Logos, North Medford and Phoenix.
Industry speakers included representatives from Freightliner Northwest, Mercy Flights, Pavati Boats, Rogue Creamery, Southern Oregon Sanitation and Town & Country Chevrolet.
RCC welcomes the following students to the college:
Automotive Technology
Karl-Wayne Kymala – Phoenix
Teyo Ramos – Eagle Point
Trenton Reising – Eagle Point
Joshua Rodriguez – Grants Pass
Bradley Toombs – Phoenix
Allen Verner – Hidden Valley

Business Technology
Coreysi Ramirez – Phoenix

Computer Science Technology
Brandon Nash – Phoenix

Diesel Technology
Waid Berg – Hidden Valley
Tanner Halstead – Eagle Point
Colt Morris – Phoenix
Noah Salnardi – Phoenix
Maxamous Wallace – Hidden Valley

Early Childhood Education
Fernanda Ledesma – Phoenix
Trew Morrison – North Medford
Miranda Perez – Phoenix

Electronics Technology
Jared Cromwell – Eagle Point

Emergency Services
Angel Alvarez – Phoenix
Alonso Avila – Eagle Point
Ryan Cicero – Butte Falls
Jessica Mendoza – Phoenix
Alonso Quezada – Eagle Point
Karen Segura – Phoenix

Health Occupations
Alejandra Camacho – Phoenix
Hailee Campbell – Hidden Valley
Faith Chauffe – Hidden Valley
Ashlee Day – Phoenix
Jessa Garcia – Hidden Valley
Cassandra Gavlik – Grants Pass
Jesus Perez – Crater Renaissance
Sara Quijada – Hidden Valley
Marien Quintero – Phoenix
Anahi Ruiz – Crater Renaissance
Macie Thompson – Phoenix
Sandra Villa – Phoenix

Industrial Welding Technology
Quinton Arrington – Ashland
Cody Haldane – Ashland
Adam Moydell – Logos
Jayce Pech – Phoenix

Manufacturing Technology
Sean Lenn – North Medford