Nayely Contreras had an idea she'd like to pursue a career helping others when she first met with a faculty advisor at Rogue Community College. Maybe nursing, maybe firefighting, maybe even criminal justice.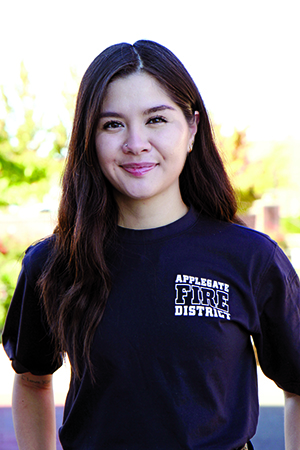 "I was all over the place," the sophomore recalled. She met with Gary Heigel, chair of the Emergency Services Department, to make a plan. "He helped me out."
Nayely took a few classes to explore several programs within RCC's Health Professions, Public Safety Pathway. It's one of six pathways, or groups of majors with similar interests, that comprise RCC's Guided Pathways model. Each pathway provides a roadmap to help students explore programs and careers, create an academic plan and stay on course to graduation.
Nayely said job shadow opportunities with an ambulance crew and a nurse at the hospital helped her realize that an indoor environment wasn't the right fit.
"I have to be out," she said. "I'm more of an explorer."
A 2020 graduate from South Medford High, the 20-year-old became an EMT in her first year at Rogue. Her goal is to become a firefighter-paramedic, so she's taking classes toward an associate degree in fire science and plans to follow up with a degree in paramedicine. She has a job as a student firefighter with Applegate Valley Fire District and plans to attend their RITA Firefighter I academy in January. (RCC offers a Firefighter I Academy in the spring and fall.)
Nayely loves that she's able to help people and save lives, and she's already had some empowering experiences as an EMT, including be able to translate for an elderly woman who spoke only Spanish. There have been tough moments, too — a 19-year-old overdose patient hurt her heart. "You can't get too close," she said.
Last summer, she spent a month working as a wildland firefighter on the Bootleg Fire near Bly. "I'd never been camping," Nayely said. She loved challenging herself with the physical work — digging lines, lugging hoses and mopping up.
Her first taste of firefighting was the Rogue Girls Fire Camp in 2019. Organized by female firefighters and emergency services professionals from several Rogue Valley fire departments, the camp aims to encourage more women to pursue this fulfilling but male-dominated career. "Rogue Girls was a big part of what got me excited about this career," Nayely said. "All of the female firefighters have been a huge inspiration." She's proud to be a part of Applegate Valley Fire's first all-woman engine crew alongside Capt. TaiLese Roeloffs, one of the Rogue Girls camp leaders who is also an adjunct instructor at RCC.
As a student firefighter, Nayely doesn't earn a salary but the fire district pays for her tuition. She also received the Oregon Promise Grant and a $2,500 Career/Technical Scholarship from the American Association of University Women-Medford through the RCC Foundation. "I'm very thankful for it," the first-generation college student said. "I'm getting a lot of help."