Laura Quintero Antón is a person who cares about her community.
During the 2020 Almeda Fire that decimated Talent, she served as a translator for Spanish-speaking residents who lost their homes. Laura was able to provide this service because she is a native Spanish speaker who learned English in Rogue Community College's English Language Acquisition (ESL/ELA) program.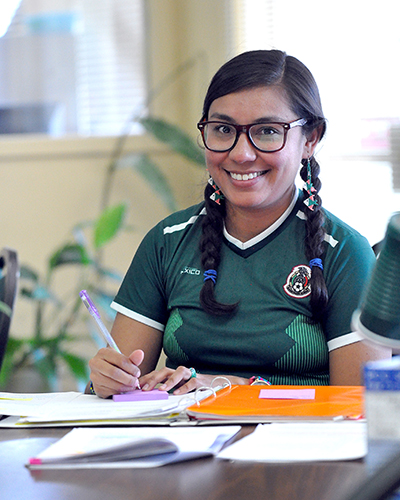 Now, just six years after moving to Southern Oregon from Guadalajara, Mexico, the 38-year-old digital arts major is just two classes from earning an associate degree.
"I think that if people have a dream, if they want to go to college, they can do it," Laura said. "It's not impossible. RCC has a lot of scholarships, there's help, and there's no reason to be afraid of the time or the studying."
Laura is working toward an Associate of Arts Oregon Transfer (AAOT) degree as well as a certificate in Design & Digital Media. She's transferring in the fall to Willamette University's Pacific Northwest College of Art in Portland to study illustration. Her goal is to illustrate children's books and even write some of her own — her ideas include books about Mexican culture and Aztec mythology.
It's a big change of direction from her work in Mexico as a physical therapy assistant, but Laura's decision to pursue a career in art is supported by her husband as well as her faculty advisor, Heidi Lee Harless, chair of the RCC Visual Arts & Design department.
"The teachers really guide you [at RCC]," Laura said. "My teacher helps me choose the classes I need for my major and she's amazing. She's teaching, she's advising, she's the program chair. She's really cool."
Laura is pretty cool, too. She received the RCC President's Appreciation Award for her community service, which includes serving as vice president of the board of directors for Talent Maker City, a nonprofit supporting local arts and businesses. She teaches at Talent-area summer camps, showing kids how they can apply art to math and science concepts, and has partnered with the Talent Public Arts Commission to observe Dia de Los Muertos and educate people about its beautiful traditions.
"I hope this helps other people realize RCC has a lot of programs and flexibility. You can get a degree and get a job in the valley, or you can transfer to a four-year school. As an immigrant, I learned English as an adult and now I'm in college, and if I can do it anyone can do it."
Laura is preparing artwork for an exhibition in July at Talent's Art Bop Beer Co. You can follow her on Instagram at @ukatimateillustration.
— Gene DePuy