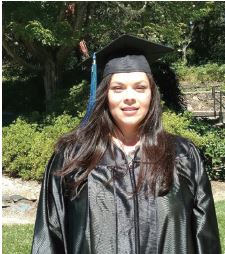 September 30 marked the first year of Southern Oregon Health Occupations Poverty Elimination, a federally funded program empowering low-income students to embark on rewarding and sustaining careers in health care.
Megan Jeffries is one of those students. In March, the 29-year-old seasonal forestry dispatcher enrolled in RCC's medical assistant program, and with the help of Southern Oregon HOPE was able to cover the cost of tuition, books, vaccinations and scrubs. She also enjoys consistent support and mentoring from academic advisors and job placement coaches who are committed to making sure Megan gets the most out of her experience at RCC.
"It's amazing; I can't even explain how good it felt," Megan says. "For them to be able to support me through this made my life so much easier."
Southern Oregon HOPE's mission is to open the doors to a career path in healthcare for as many as 1,100 low-income residents of Jackson and Josephine counties. Study programs include nursing assistant, dental assistant, emergency medical technician, medical coding, phlebotomist, emergency room technician, medical assistant, medical administrative assistant, pharmacy technician, physical therapy aide and sterile processing—all vocations that are currently in demand throughout our local communities. That means students aren't just receiving an education; they're being trained to fill a vital need, while at the same time improving their own standard of living.
"I see this program changing the faces and lives of our community," says Joe Anderson, Southern Oregon HOPE transition specialist for RCC. "It is a wonderful starting point for people who never thought they could go to college. It could change the life trajectory of families. It will improve our healthcare system, and it will help create training opportunities for businesses."
Since the program has launched, 50 students at RCC have benefited from funding and support. This demonstration grant provides funding for tuition and fees along with intensified case management.
"They've taken a huge weight off my shoulders," says Heather Greer, a single mom of two who will begin her 9-month medical assistant program in spring 2017.
Southern Oregon HOPE is making college possible for Heather by helping her pay for food and gas, so she can study and do her coursework online. This is all a big step toward her future goal of earning a nursing degree.
"Being able to complete this short-term goal at RCC will allow me to get off assistance and set an example for my kids that you really can accomplish anything," she says.
To qualify, students must be recipients of the Temporary Assistance for Needy Families program, or be below 185 percent of the federal poverty level. Everyone who qualifies is welcome to apply, yet because space is limited, RCC uses a lottery system to select funding recipients.
For more information about SOHOPE, visit us online at go.roguecc.edu/department/southern-oregon-hope.