Brina Collins could be the star of that old Johnny Cash song — she's been everywhere. After graduating high school in Ohio, she moved to a remote Alaskan island. It became difficult to access medical treatment for her child, who has a rare lung condition, so she came back to the mainland in 2020, moving to Oregon to be closer to medical facilities and find new opportunities. During the COVID-19 pandemic, she stayed at home to care for her child. That's when she started taking classes with Rogue Community College.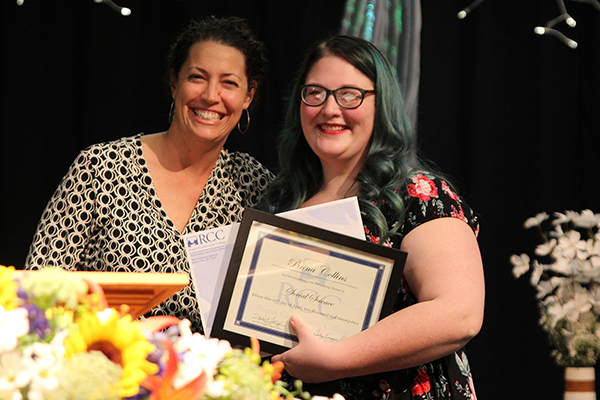 "I was remote, because I didn't live near a campus and we were being super careful with my kiddo's health," Brina said. "Even though we were online, there were lots of really fantastic classes at RCC. I felt like my professors were really invested in teaching to help students learn, not just teaching to the test or to get a grade. Thanks to the work of my professors, I felt really involved even in online classes."
At first, Brina started with four classes. She enjoyed them and did well, so she kept going. "The Access and Disability Services office was fantastic," Brina said. "It's a really excellent part of RCC and helped me with things I hadn't even thought about. They gave me really hands-on help and did lots of troubleshooting with me and never made me feel judged."
During her time at RCC, Brina was part of the honor society and received the 2022 Outstanding Student Award in social science. She has always wanted to be a social worker and will now be continuing her education with Portland State University's online social work program. She has been accepted into PSU's Schreyer Honors College.
Way to go Brina, we're proud of you!