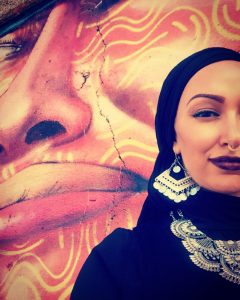 The Diversity Programming Board (DPB) is hosting an internationally-recognized hip-hop dancer, choreographer, and teacher, Amirah Sackett for two days in April. Sackett is an American Muslim and her acclaimed work is purposed to change common stereo­types about Muslim women. Cyrise Beatty, a local hip-hop teacher and performer from Ashland will be assisting Sackett. Don't miss this one-hour performance, lecture, and Q&A session in Grants Pass or Medford as follows:
Redwood Campus: Tues., April 18, 6-7 p.m.
Rogue Auditorium.
Riverside Campus: Thurs., April 19, 1 a.m. – Noon
Performance Hall/Bldg. C.
The presentations will be followed by an optional, hour-long hip-hop dance work­shop for any participants of all ages inter­ested in learning the craft.
College employees are encouraged to attend and to invite family, friends, and students to enjoy one of these entertaining and informational sessions FREE of charge. Seating is limited. For more information about Amirah Sackett, contact Katy Wicks at kwicks@roguecc.edu, ext. 7201.
RCC's antici­pated special guest, Amirah Sackett started "We're Muslims Don't Panic" with two other dancers, Iman and Khadi­jah. The trio set out to educate people about hijabs (a Muslim style of dress) and to increase an understanding and tolerance for Muslims in the nation's cities and schools.
The dancers were featured in a music video produced by rapper Brother Ali titled, "Mourning in America." Based on that performance, they were acknowledged with the prestigious Sage Cowles Award for "Best Ensemble Performance." In the past year, they reached viral video fame with millions of views on multiple sites.
Sackett was one of the first female hip-hop artists to receive a famous travel/study grant that provided her with an opportunity to study and train at Hip Hop Huis in Hol­land. She continues to teach and perform and her acclaimed work is purposed to change common stereotypes about Muslim women. She is from Chicago where she routinely performs, but she has also been touring the U.S. by invitation. For example, she served as a guest lecturer for the Har­vard University School of Education and was also selected as a Tedx speaker in New Hampshire. In addition, she participated in a cultural exchange program in Bangladesh sponsored by the U.S. State Dept. and the University of North Carolina.
Another highlight of Sackett's career in­cludes a Midwest tour of American Muslim artists, "Caravanseri-American Voices." The Huffington Post recently featured her in an article titled "17 Muslim Amer­ican Women Who Made America Great in 2016."
Sacket expresses that "the hip-hop culture gives a voice to those often unheard and is a way to uplift, inspire, and bring change to those communities that need it the most."