On June 13, 2020, Rogue Community College bid farewell to 699 deserving graduates in 34 different fields of study in an online commencement ceremony. They will enter the workforce or continue at universities equipped with valuable skills and knowledge obtained during their many months as RCC students. We wish them great success as they embark on careers that will make a positive impact on their lives as well as on our local economy and culture.
University Bound
This year's commencement event also featured student speaker Cheyenne Rose Cloud, an associate of arts transfer graduate who plans to continue studies at Southern Oregon University in the fall. Cheyenne enrolled in RCC's biology program as a non-traditional student after watching her mother pave the way.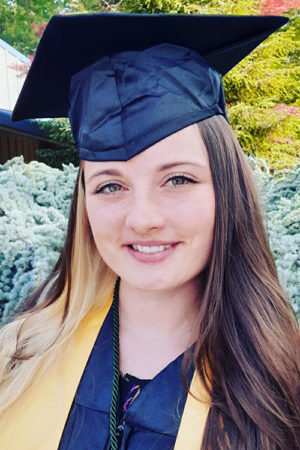 "My mom went back to school to earn a massage therapy certificate, and her experience showed me that it's never too late," Cheyenne said. "I had started getting into the mindset that I had missed the opportunity to become a biologist. After my mom got her degree at 48 and it changed her life for the better, I was inspired to return to college and follow my dreams."
Cheyenne has always been fascinated with the living world. She has an innate passion to learn and a deep love for animals, having spent her childhood hiking through the woods with her dogs, reading zoology books, drawing creatures, flipping rocks, and observing animals in their natural habitats.
"Ever since I began this course of study at RCC, it has been a perfect fit," she said. "RCC has incredible teachers that have mentored me and taken special time to humor my curious mind. Through school I have also been connected to the ideas of ecology, sustainability and community involvement. This has widened my horizons and made me think bigger about the impact I want to have in the world."
Currently Cheyenne is particularly focused on biodiversity loss and mass extinction. "I no longer feel hopeless when thinking about these topics but emboldened to conduct more research and take
leadership in solving our current crises," she said. After she completes her bachelor's degree at SOU, Cheyenne hopes to one day earn a PhD and conduct research that will literally change the world.
Overcoming Obstacles
As RCC honored its collegiate graduates, a special ceremony also took place for those who completed their GED through RCC's high-school equivalent program. That event featured an address from
Miriam Lagomarsino, a GED grad who overcame significant obstacles with anxiety and OCD in order to complete her education.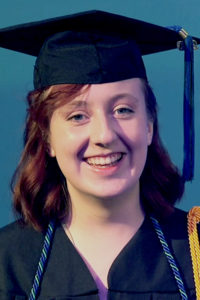 "The staff and teachers made my experience one-hundred times better than I thought it would be," Miriam said. "I was very anxious going into the program, but the staff were so happy to answer my questions and the teachers made learning so much fun. It never felt like a chore and motivated me to do my very best on my GED tests."
Thanks to personal attention from instructors, Miriam now believes she can succeed in school despite her mental health challenges—which were what led her to drop out of high school in the first place. "I didn't see myself being successful after that, but at RCC they worked with me and I learned how to
manage my struggles while also doing school," Miriam said. She is now planning to attend college in the near future and has already enrolled in some RCC college-level courses.
"For anyone thinking about getting their GED at RCC, I want to say that it is definitely worth it. Even if your future is unclear, getting your GED not only helps with jobs but with school experience. It's also a very wonderful and happy experience," Miriam said. "I particularly loved getting my GED at RCC because they embrace each individual student and respect what they want for the future, all the while helping them achieve their GED!"
Congratulations to Cheyenne and Miriam for their accomplishments and recognition at this year's commencement events. We wish all of our RCC graduates a bright and fulfilling future!
For more information about college or GED courses at RCC, search "GED" at roguecc.edu.