In a June 29 message to the campus, Rogue Community College President Cathy Kemper-Pelle announced her plan to retire at the end of June 2022.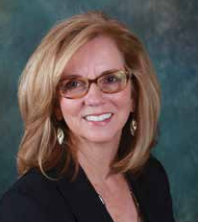 "I have thoroughly enjoyed my leadership role at RCC and will miss working with such a stellar group of individuals," Kemper-Pelle wrote in an email to employees. "However, Rob and I have five grandchildren who have graciously endured a long-distance relationship, and it is time to be hands-on, supportive grandparents before they get too much older."
Kemper-Pelle has worked in higher education since 1980. She became RCC's sixth president on July 1, 2016, and is the first female to lead the college, which celebrated its 50th anniversary in 2020-21.
"Under Cathy's five years of energetic and visionary leadership, RCC has effectively strengthened the college's ties to local workforce development initiatives, formed strong and enduring partnerships with all of the region's other educational institutions and facilitated supportive engagement with the local and state leadership groups within each of the diverse communities served by the college," board chair Roger Stokes said in a written statement (attached). "Using her data-driven approach, Cathy has transformed the institution into one which has become far more responsive — in terms of both programs and support services — to the needs of our students as well as to the expectations of our local employers."
The RCC Board of Education learned of Kemper-Pelle's retirement plans earlier this week and has not yet had an opportunity to discuss the process of searching for a successor.
"I am going to be sad to see Cathy go," said board member Claudia Sullivan. "She has really steered RCC in an innovative direction and has the drive, vision and energy that has made innovations possible. However, I understand that Cathy's young family will only want her attention for a limited time, and she might regret not attending to them while the gettin's good. I'm grateful that she is giving the Board and the college a year to find a new president."
RCC includes three campuses and two centers in Josephine and Jackson counties. In her five-year tenure with the college, Kemper-Pelle has launched multiple capital construction projects including the High Tech Center and Health Professions Center at Table Rock Campus; an off-campus Fire Science Center in White City; an arts building and science building at the Redwood Campus; and two campus master plans.
Kemper-Pelle was recognized in 2019 with three regional presidents for collaboratively developing the Southern Oregon Higher Education Consortium to leverage regional resources and address higher education and employment needs in Southern Oregon. She championed RCC's implementation of Guided Pathways and Achieving the Dream student success strategies, and created a Department of Institutional Research to foster data-informed decisions. She also partnered with the SOU president, K-12 superintendents and industry leaders to create the Southern Oregon Educational Leadership Consortium focused on smoothing the transition from high school to college and careers in our region.
"I will continue to serve the college and support you as your president with all my heart during this final year as the Board begins the search for a new president," Kemper-Pelle wrote in Tuesday's email.
She serves on regional boards for ACCESS, Britt Festival, Medford-Jackson County Chamber of Commerce, Rogue Workforce Partnership and Southern Oregon Regional Economic Development, Inc (SOREDI). At the state level, she serves as chair of the Oregon Presidents' Council, a monthly assemblage of the presidents of Oregon's 17 community colleges.
Kemper-Pelle is a community college graduate, having earned an associate of science degree in 1975 from Illinois Central College. She holds bachelor's and master's degrees in biology and earned a Doctor of Education (EdD) in community college leadership from the University of Texas at Austin in 2005. Prior to leading RCC, she served as Vice President of Learning at Lee College in Baytown, Texas, from 2010 to 2016.