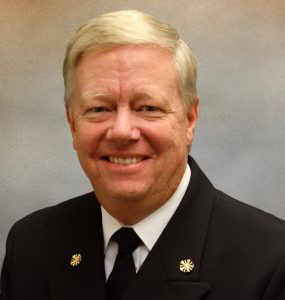 RCC has a number of alums that have gone on from RCC to contribute greatly to their communities and professions, and the RCC Foundation is thrilled to announce Dan Petersen as its 2017 Alum of the Year.
"I am humbled to be selected for this award," expressed Petersen. "I have simply tried to make the world a little better and provided the opportunity for those around me to excel. I've never made my leadership about me, however I have been proud to see people who have worked around me grow and develop their ability to serve the community."
Petersen graduated from RCC in 1989 with an Associate of Science in Fire Science and has since obtained a Bachelor of Science in Fire Administration from Western Oregon State University, and a master's in management from Southern Oregon State University. He is also a graduate of the National Fire Academy Executive Fire Officer program.
The alum began his fire service career in 1979 as a volunteer firefighter in Josephine County.  From 1980 to 1988 he worked for Valley Fire Service (now known as Rural Metro) serving as a firefighter, engineer, and captain. Petersen worked for Medford Fire-Rescue from 1988 through 2010 serving as a shift battalion chief, training/EMS chief, and deputy chief of administration. Between October 2010 and January 2017 he served as the fire chief for Jackson County Fire District 3. Currently, Petersen is the fire chief for the Unified Fire Authority (UFA) in Salt Lake City, Utah. The UFA provides fire, rescue, emergency management, fire prevention, investigation and bomb squad for over 400,000 people in nine cities, five townships and the unincorporated area in Salt Lake County, Utah.
"Dan Petersen's leadership, as a fire captain, his 'can do' attitude, sense of collaboration and fairness are inspirational," said Anne Golden, a member of the community who nominated Petersen. "I cannot think of another individual who has carried the banner of RCC with such impact and gratitude."
When sharing words of wisdom to future RCC graduates, Petersen advised, "RCC gives you a fantastic start in achieving your educational goals. Take advantage of the knowledge and experience available at RCC as you search for the right position, but don't stop attending school…be a lifelong learner."
Petersen will be honored at the RCC Foundation President's Circle event on July 13 at RoxyAnn Winery in Medford.