Alejandro Velazquez knows what it's like to struggle toward a dream.
In his plan, 2014 was supposed to be a breakthrough year, the launch of his post-high school soccer career as a freshman at California State University in Monterey Bay.
Alejandro's sports-loving family nurtured his love of soccer and other sports, cheering him on through years of play in championship club teams. He was ready to take that success to the next level.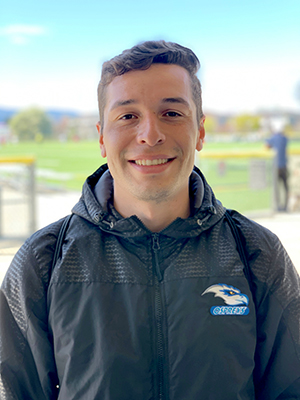 Instead, in one of his very first college training sessions, Alejandro was injured, leading to a rollercoaster year of injuries, recoveries, games and academic struggles. "Mentally, it was difficult to stay focused on school when I was so worried about my injury and where it would place me in the pecking order for starting time on the field," he said.
What felt like an insurmountable blow hit spring semester when, on the heels of recovery from a second injury, Alejandro received news that a good friend from home had passed away. "It put me through a whirlwind," he said. "I started to lose focus in school and decided to leave during my sophomore year." He took a year off before enrolling in College of Marin close to home.
Just two weeks into that semester at Marin, however, his future called in the form of a high school friend. He encouraged Alejandro to move to Oregon to play soccer for Rogue Community College. "I saw it as a fresh start in a new state where I could continue playing soccer, so I gave it a shot," he said.
And a winning shot it was.
That move proved to be the turning point for Alejandro as he said goodbye to the struggles of the past year and forged a new path to a successful academic life and sports career.
Alejandro joined a small RCC 14- to 16-player roster that quickly gelled into a powerhouse soccer force to be reckoned with. At its base, the team formed a strong core leadership group comprised of several experienced players.
The smallness of the team "forced us to get to know and trust each other like our lives depended on it," Alejandro said. "Since we were a bit older, we already knew the jobs that had to be done, and we did them without hesitation."
That year the Ospreys made a name for themselves and went on to a winning season and a place in the history books as the school's best men's soccer team to date.
And as for school life?
The personal attention Alejandro received as a student from RCC teachers, coaches, tutors and advisors propelled him to academic success and confidence that translated to the next step of his journey.
So, it was no surprise when he parlayed his junior college play to a position on Southern Oregon University's team.
Playing soccer at SOU only served to fuel his academic success there, too. "It seemed as though all my struggles from Monterey Bay were behind me. I was focusing on keeping myself in shape so that I wouldn't sustain any more injuries," Alejandro said. "I was able to stay injury-free during my two years at SOU and integrated myself into the starting 11 on the team. All the success on the field translated to the classroom. I was enjoying myself and was able to maintain above a 3.0 GPA while producing on the soccer field as well," he said.
Alejandro completed his four-year degree in health and physical education while playing on the field two years for the Raiders. One of his biggest highlights was scoring a goal in the semi-finals of the conference tournament.
Ultimately, Alejandro credits sports with helping to shape him into the person he is today. "Not only with soccer but with any team sports, in order to be a championship-winning team, you have to learn to play as a team and trust all of your teammates. This also helps you build relationships with people you meet outside of sports along the way," he said.
Alejandro's soccer career has come full circle as he recently returned to RCC—now as assistant coach for the men's soccer team. "I decided to come back and coach RCC because I had a great relationship with [head coach] Greg Millick as a player, and he really helped me throughout my community college process," he said.
Coaching is also a way for Alejandro to stay connected to the game he loves and speak into the lives of younger players. "I know how difficult it can be at times to move to a new city or school and continue to work hard through adversities," he said.
And even younger players will also benefit from Alejandro's instruction as he has taken on coaching the 09 Boys and 05 Boys for the Rogue Valley Timbers with the assistant coach from SOU. "I'm grateful for the opportunity to help kids and players that are now in the same position I was in just a few years ago," he said.
As for the future, Alejandro wants to continue coaching and possibly earn another degree in teaching. After all he's been through, he believes more than ever in the importance of pursuing new dreams—no matter what obstacles stand in the way.
RCC is ready to help you start on the path to your dreams. Find out more about our academic and sports programs here.