Rogue Community College is launching an Aluminum Boat Welder certificate program designed to prepare students for a career with local sport boat manufacturers.
Aluminum boat building is a staple industry in the Northwest and especially the Rogue Valley. RCC's three-term certificate program will allow students to develop an understanding of basic boat building procedures and welding requirements. From basic vocabulary up to fabrication of scale and full-sized boats, students will learn from industry professionals how to assemble aluminum watercraft commonly seen on the lakes, rivers and ocean bays in our region.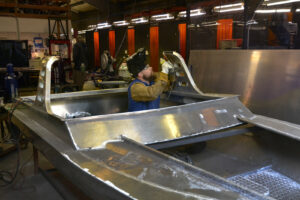 The boat welding program will begin fall term 2021 at the RCC Table Rock Campus in White City. Students are able to take prerequisites during summer term or Mechanical Fabrication (MEC102) must be taken concurrently during fall term. Boat welding courses will be taught by Medford boatbuilder Mike Roseborough as well as RCC faculty.
RCC's Industrial Welding department offers a two-year associate of applied science degree as well as several shorter certificate programs designed to help students move quickly into the workforce. General welding classes are available at the Redwood Campus in Grants Pass as well as the High Tech Center at the Table Rock Campus.
Registration is open now for summer and fall terms. For more information about industrial welding programs at RCC, email department chair Todd Giesbrecht.