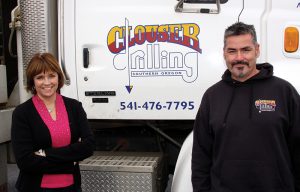 The economic crash of the past decade forced at least one Grants Pass business to build new skills and sharpen it's business focus – aided by the RCC Small Business Development Center.
"The recession helped us get better," says Kevin Gill, who with his wife, Helen, owns Clouser Drilling, Inc., in Grants Pass. "Our industry was affected right at the beginning of the recession. Phones stopped ringing," said Gill, whose uncle, Leroy Clouser, founded the well drilling company in 1971.

"We hit the road to try to keep the business going, and we learned we better get better." That proved to be a blessing in disguise, according to Helen Gill. "We had time to learn and take classes," she explained. "And we got licensed for environmental and geothermal drilling."
Part of their regrouping was tapping into SBDC resources and taking RCC classes, including those offered through the Small Business Management (SBM) program. The Gills also joined community and professional organizations, networked, and stayed open to change.
"We needed to gain more skills for today's world," Kevin Gill said. "We couldn't just wait for the phone to ring." Their efforts have paid off and for the past two years, Clouser has drilled the most water wells of any Oregon company.
Now they are participating in the SBDC's Next Level Program (NLP). SBDC Director, Ron Goss said that while the SBM training helps entrepreneurs and startup businesses get off the ground, the NLP focuses on existing growth-oriented companies with more than $1 million in sales.
Counselors Dave Ellison and Steve Spilker help with strategic planning, efficiency and identifying new markets. Other areas include branding, legal issues, personnel, and government contracts.
"They take the gloves off," Gill said, "and they've forced us to look critically at all aspects of our business. We've started thinking bigger." The firm stopped doing pump work and concentrated on drilling, adding agricultural and geothermal work and larger projects.
Without the SBDC staff, Kevin Gill figures Clouser Drilling would have muddled through the recession rather than emerging more robust.
"We would have survived, but they've taken us to the next level. They've challenged us to envision where we want our business to go and helped us realize business is not static — you're either going forward or going backward," he said. "I'm impressed that a service like this is available at no cost. It's an amazing asset to small businesses."
For more information about RCC Small Business Development Center services, call 541-956-7494 or visit www.roguecc.edu/SBDC