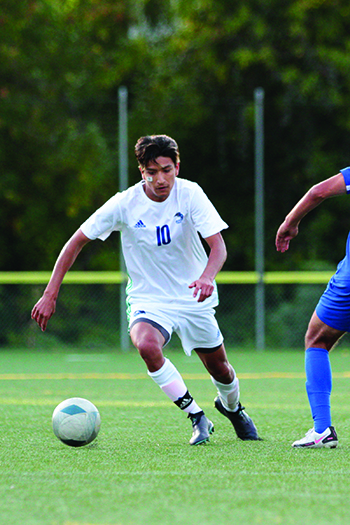 Rogue Community College center midfielder Rosendo Juarez Flores has his feet on the soccer field and his eyes on the future.

The 22-year-old sophomore, who goes by the nickname Pizo, is just four classes away from completing an Associate of Arts Oregon Transfer (AAOT) degree with an interest in pre-professional medicine. Pizo's career goal is to become a physical therapist.

"It took my knee to be injured for me to figure out what I want to do," said the Phoenix High School grad. Suffering several sports injuries, Pizo seized the opportunity to talk with local PTs about careers in sports medicine. "I really think I'll like it. It has to do with playing sports and being active. I'm an active person."

The AAOT degree, also called a transfer degree, is a two-year program for students who intend to transfer to an Oregon university. Pizo plans to pursue a bachelor's degree at Oregon State University or Southern Oregon University. His AAOT degree will satisfy lower-division general education requirements and allow him to receive junior standing for registration purposes when he transfers to a university.

Pizo is glad he started his college career at Rogue, which allowed him to live at home and save money on tuition. "I'm very blessed to be in the place that I'm in," he said. "I'm really glad about that."

His first year, he focused on academics and didn't play soccer, a move that helped him transition from high school to college-level work. When he joined the Ospreys, Pizo found instant camaraderie with his teammates, who often schedule classes together so they can support each other off the field.

"One key factor in student retention is creating connection," said Kori Ebenhack, Vice President of Student Affairs. "Athletes have a higher retention rate than the overall rate because they are connected — not only connected to coaches who can offer help with college systems but also with teammates who offer friendship and support."

RCC offers men's and women's soccer and women's volleyball. The Ospreys compete in the Northwest Athletic Conference (NWAC). Like athletics, RCC's Guided Pathways model is designed to support student success.

Students choose from one of the college's six pathways, or groups of majors with similar interests:
• Applied Technology
• Art, Humanities, Communications
• Business
• Health Professions, Public Safety
• Science, Technology, Engineering & Math
• Social & Behavioral Science, Education

Colleges that use Guided Pathways have higher graduation rates and lower levels of student debt. The pathways provide a roadmap that guides students as they explore programs and careers, create an academic plan and stay on course to graduation. For students interested in healthcare careers, RCC's Health Professions, Public Safety pathway offers a variety of associate degrees, including the AAOT, as well as short-term certificate programs that lead to careers in emergency services, massage therapy, nursing and more.

Find your path at RCC. Call 541-956-7217 or email recruitment@roguecc.edu.