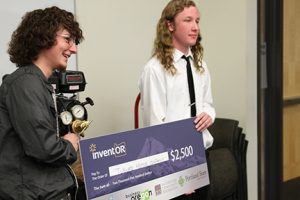 Two teams of eco-oriented student innovators from Rogue Community College won $2,500 and an invitation to the statewide InventOR Collegiate Challenge after presenting their inventions to a panel of local businesspeople earlier this month.
RCC's two semi-finalist teams are Mission Franklini, which designed a non-lethal device to count pollinators, and Turner Motor Company, which is developing a hydrogen-powered combustion engine to reduce vehicle emissions. Mission Franklini is Thomas Close, Nicholas Mantheakis and Uriah Barrows. Turner Motor Company includes Blake Turner, Mel Turner and Harley Bruno.
InventOR is an innovation contest sponsored by Business Oregon, the Lemelson Foundation and the Portland State University Center for Entrepreneurship. The contest is designed to inspire and support inventors and entrepreneurship at Oregon colleges and universities. Twelve schools, including three community colleges, are participating in this year's competition.
Physics instructor James "Dusty" Rittenbach spearheaded the competition at RCC, which launched with an info session in February. Less than two months later, five teams presented their initial prototypes to a panel of judges on April 12 at the Riverside Campus. The teams were judged on their pitch and ability to demonstrate a prototype, as well as the project's potential impact and feasibility. The judges included representatives from Quantum Innovations, JB Steel, People's Bank and Rogue Valley Microdevices.
Ideas ranged from a remote-controlled electric skateboard to a concrete alternative made from recycled PVC. Mission Franklini and Turner Motor Company were selected to advance to the state competition, where they'll compete for up to $10,000 in awards. InventOR awarded the semi-finalists $2,500 to advance their prototypes and will provide mentoring leading up to the June 29 final at Oregon Tech in Klamath Falls.