When Abraham Reyes first enrolled at Rogue Community College, he didn't have a plan. After his father had a stroke, Abe just wanted to get a job to help himself and his family. He chose to begin his path at RCC.
"RCC worked for my family's budget, so I just started taking classes," Abe said. Now he is on track to earn two degrees — an associate of general studies and a business transfer degree. He plans to transfer to Southern Oregon University to pursue business management.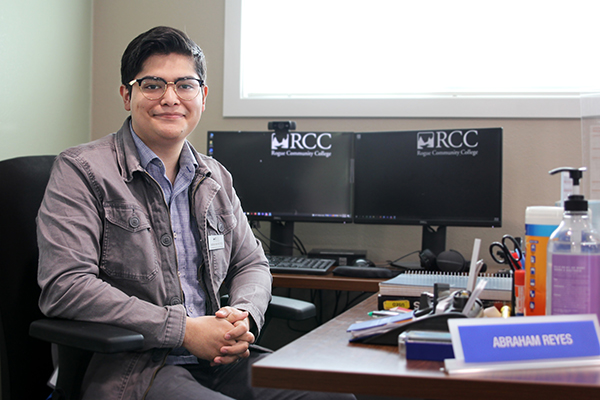 RCC's Business Transfer to SOU associate degree was developed in cooperation with SOU's business program to provide students with a smooth transition to the university. Students can save about half off tuition and fees by starting at RCC then transferring to a university to complete a bachelor's degree.
In addition to two-year associate degree programs, RCC's Business Technology department offers a variety of shorter certificate programs that help students build skills to get started in the workplace right away. The four-term business assistant program is designed to prepare students for entry-level positions in bookkeeping, administrative support and even supervisory management positions. Three-term programs are offered in customer service; business and information; retail sales and service; and small business management.
Abe has been putting his new skills to work — and earning money to help support his family. In his first term, Abe found a position as a student worker in the college's finance office. RCC's Student Employment Services offers a variety of part-time positions on campus that help students gain on-the-job experience while also earning a paycheck.
But Abe didn't stop there. Though he's still a student, he's already landed a full-time classified position at Rogue. At 21, Abe is working full-time as an administrative assistant for the STEP at Rogue program, which connects students receiving SNAP benefits with additional support services to help them succeed in college and finding a career.
"I thought I knew computers, but I've learned so much [on the job]. I've learned Microsoft Excel, so much about scheduling, and I've gotten lots of experience with customer service and improved my interpersonal skills." These skills, Abe said, will help him long after graduation.
But he's certainly making the most of his time as a student. At the onset of the COVID-19 pandemic, Abe took over as president of RCC Latinx/o Club, a student club dedicated to sharing and celebrating Hispanic cultures. The club maintained virtual meetings throughout the pandemic-related closure of RCC's campuses.
Now that in-person activities have resumed, Abe is looking forward to co-hosting World Day events at the Redwood Campus (May 18) and at the Table Rock Campus (May 19). "There will be activities like theater, musical performances, and information about cultures from around the world," Abe said. "I'm really excited to be involved."
Under the umbrella of the Associated Student Government (ASG), RCC offers a variety of student clubs including Chess Club, EARTH Club and Rogue Engineers. Club Days events are held each term to invite new members, and students are invited to charter a new club to suit their interests.
Like Abe, about half of RCC's students plan to transfer to continue their education at a four-year institution. Rogue's TRIO Student Support Services program provides eligible transfer students with advising, tutoring and other supports to help them succeed. It's also an opportunity for students to network with others who share similar goals.
Abe likes to keep busy. He's currently brainstorming a diversity-themed student art contest with the theme and in his free time he enjoys playing video games, spending time with his wife and their cat, and playing chess.
— Gene DePuy