Michael Surgeon has always wanted to teach.
Right out of high school, he knew he needed to start higher education — but the nearest university was too expensive, so he turned to community college.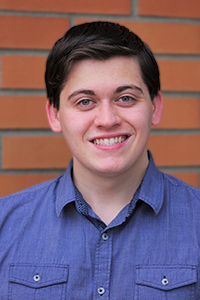 "I definitely made the right choice," Michael says. "RCC was the place where I developed as a student. Erika Giesen and Verne Underwood really kept me on track in the humanities."
Not only did he learn how to be a student, but Michael also developed as a person. He participated in RCC's student life from playing Oberon in a campus production of "A Midsummer Night's Dream" to restarting the Gay-Straight Alliance (GSA) club at the Riverside Campus in Medford. He also served as Diversity Coordinator for RCC's Associated Student Government, known as ASG.
Now that he's a teacher, Michael tries to instill the same involvement in the students he teaches. "If you're doing activities, it really motivates you. I think building a community to rely on is really important."  
Michael teaches English at Scenic Middle School in Central Point. His teaching career began in difficult times, supporting his students through wildfires as well as the ongoing COVID-19 pandemic and remote learning. Michael says, "There has been a lot of tragedy, but I focus on uplifting my students. Overcoming tragedy and building community, that's really important." He coaches track and encourages his students to participate in after-school activities. Michael also serves as Scenic's GSA advisor and is involved in the Rogue Action Center and youth summit.
"Medford is my hometown," Michael says, "and it's grown so much and embraced diversity, and that's really important." He was invited to serve as the master of ceremonies for the first Medford Pride event in June, co-hosted by the Southern Oregon Health Equity.
After finishing his AAOT in English literature and sociology at RCC, Michael transferred to Southern Oregon University. "It was a really smooth process, and so much more affordable than going right to university. When I started [at SOU], I got to go right to taking high-level classes and things I actually wanted to take."
Michael received RCC's Community Focus Award in Sustainability. "I met some of my best friends in my first class, CG100 [College Success and Survival], and it had such a lasting impact. For me, it all started at RCC."
— Gene DePuy