It's time to say Happy New Year and welcome to winter term! Winter term begins Monday, Jan. 2. RCC is closed Friday, Dec. 30, in observance of New Year's Day.

Staff will be available to point you in the right direction during our Week of Welcome on Monday and Tuesday. Stop by for coffee and snacks, rock painting and a scavenger hunt with prizes.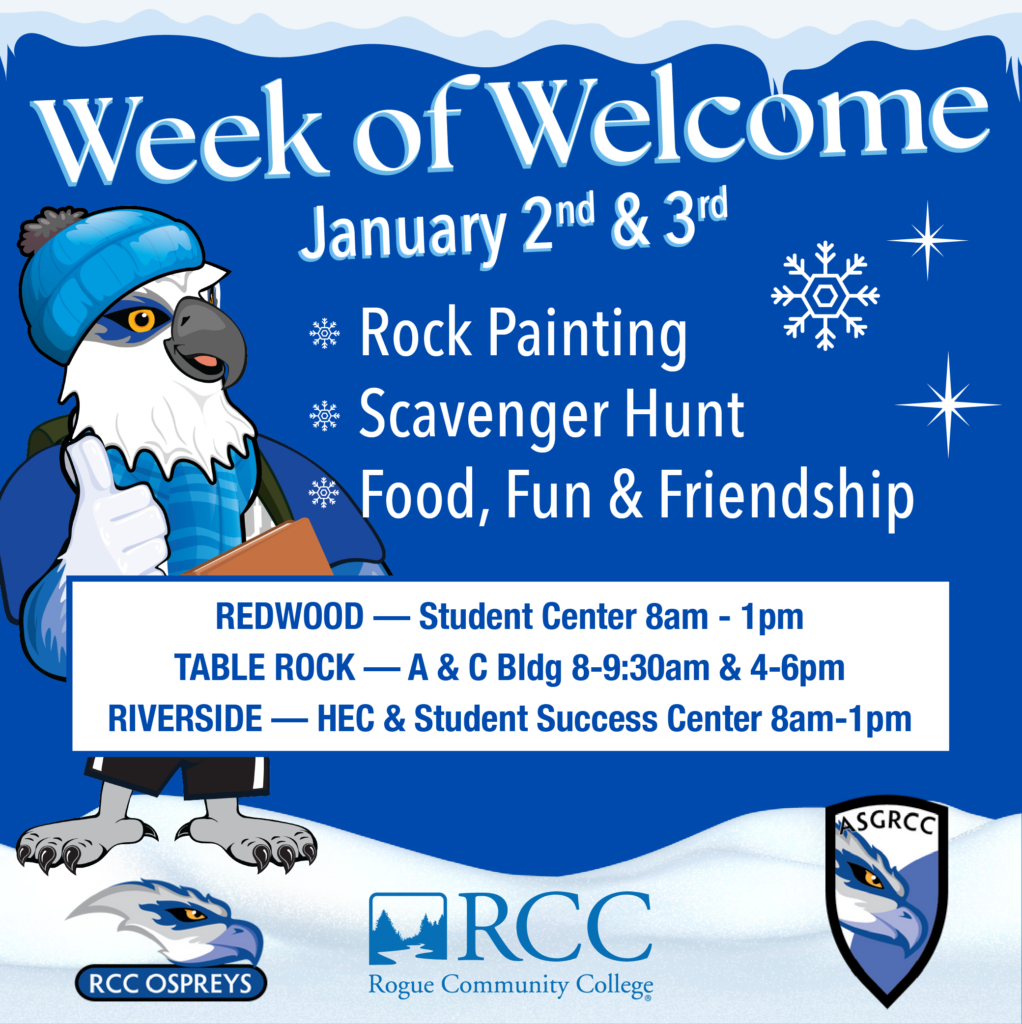 Redwood Campus (RWC): Student Center from 8 a.m. to 1 p.m.
Riverside Campus (RVC): Higher Education Center (HEC) and Student Success Center from 8 a.m. to 1 p.m.
Table Rock Campus (TRC): A & C Buildings from 8-9:30 a.m. and 4-6 p.m.
New Student Orientation and campus tours will be held on each campus on Jan. 2 & 3. See the schedule for details. This is a great opportunity to learn about the many resources available to help you succeed. All students are welcome!
RVTD bus service in Jackson County will be operating regular hours on Monday. Josephine Community Transit (JCT) will be closed Monday in observance of the New Year's holiday; JCT service will resume Tuesday. Click here to learn more about transit routes and student bus passes.

Wondering about weather delays and closures? Make sure you're signed up for RCC alerts.

Do you have the campus app? It's a great place to buy and sell textbooks, find links to campus resources (including an interactive campus map) and connect with other students. Search for Rogue Community College on Google Play or the App Store.

Need books? Learn which texts you need and order online at the Ambassador bookstore. RCC Libraries have laptops and some textbooks available to borrow on a first-come, first-served basis; graphing calculators rent for $10 per term.

Questions? Visit Rogue Central Services on any campus to complete your college business, including advising, registration and financial aid. We'll be open next week from 8 a.m. to 5 p.m. Drop by any campus!
Cheers,
RCC Communication Team