Happy Groundhog Day! The groundhog checked the academic calendar this morning and predicted six more weeks of winter term. You can do this, Ospreys! If you need extra support, please check out RCC's free tutoring, free counseling and the Advocacy and Resource Center.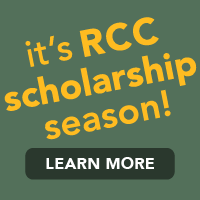 It's Scholarship Season!
Did you know the RCC Foundation provides almost $500,000 in scholarships to RCC students each year? There's one easy online application to apply for more than 100 scholarships. The application for 2023-24 scholarships is open now through June 1. Submit your application by April 1 to be entered into a drawing for a $500 early bird scholarship.

Would you like some help applying for becas (scholarships)? ¡Unete! Join Us! All students are invited to Becas & Snacks from 12:30 to 1 p.m. each Wednesday, Feb. 8 – March 22 at the Riverside Campus Student Success Center (SSC) Room 15. Ask questions about the scholarship process, get started on your essays and receive help. For more info, contact Ailym Pinero Requena, Latino Outreach & Recruitment, at 541-956-7037 or APineroRequena@roguecc.edu.

Riverside Campus Piano Recital
The RCC Music department will host Chuan Chou in piano recital at 5:30-6:30 p.m. Wednesday, Feb. 8 at the Riverside Campus Higher Education Center, room 132. Admission is free. Chuan, a graduate student at SOU, will perform works by Haydn, Bartók, Schubert and Liebermann.

Redwood Campus Blood Drive
The Ospreys Society is hosting a Red Cross blood drive on Wednesday, Feb. 15 from 10 a.m. to 3 p.m. in the Redwood Campus Student Center. You're welcome to drop in or schedule an appointment.

Pizza with the President
The RCC Associated Student Government (ASGRCC) is hosting Pizza with the President, an opportunity to get a free lunch and meet your college president, Randy Weber, on Monday, Feb. 27, from 12-1 p.m. at Table Rock Campus, A-184. Advance sign-ups are appreciated to ensure plenty of pizza.

RCC Clubs and Programs
Looking for a way to get more involved in campus life, make new friends, or enjoy some down time between classes?
• Explore more than a dozen student clubs
• Join student government
• Download the RCC campus app
• Check out the Student Engagement Calendar
Huddle up!
The Student Huddle is an informal, open forum, and safe space, where students can share their experiences, ask questions and receive valuable information and resources. Hosted by ASGRCC and RCC Counseling, the Student Huddle is held from 12:30-1:30 p.m. Tuesdays (weeks 2-11 during the term) via Zoom. First-time attendees receive a $25 Fred Meyer gift card just for attending. See you there!