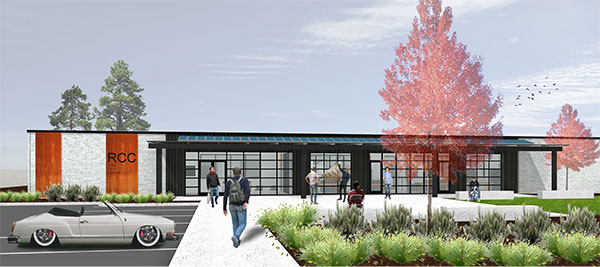 Work has begun on improving facilities at Rogue Community College's campuses in Grants Pass, Medford and White City.
A $23 million bond was approved by voters last spring to use in various projects that included remodeling spaces such as labs and classrooms to meet modern learning needs as well as expand the current facilities and build a training center to house health professions at the Table Rock Campus.
"This incredible support by the voters of our district will help us provide the right spaces and technology for our students to prepare for the workplace of the future," says RCC president Cathy Kemper-Pelle.
RCC is already moving forward with the first two projects ‑- the High Tech Center building at the Table Rock Campus and connecting the Redwood Campus to the City of Grants Pass' municipal water system. RCC's Redwood Campus currently gets its water through groundwater wells.
Construction project manager Greg McKown says the High Tech Center portion of the project is currently in the design stages. He believes the project will move to the bidding process in the next months and the project completion and occupancy goal is for the 2017 fall term but could extend to a winter term opening.
"Getting community leaders and entrepreneurs, industry practitioners, students, and faculty together in the same space to exchange ideas, solve problems, and develop relationships will be a win/win/win," says Steve Schilling, dean of instruction for RCC's School of Science and Technology about the new High Tech Center.
Steve says the plan is to remodel the High Tech Center first in order to move the welding program from the White City Veterans Affairs (VA) Domiciliary. The current spot is a 1950s-era wood building that is slated for demolition.
"By contract, we can be made to vacate in as little as 30 days, accounting for the increased sense of urgency," he adds.
The facility will also house RCC's advanced manufacturing program and have an innovation/maker space. By moving those programs to the new facility, the "mechatronics" program will be able to expand and provide more hands-on curriculum.
Steve says having these programs located close together will help serve students best. He is also excited about the innovation/maker space being able to promote and foster engagement between programs.
They will be "identifying and solving real world, externally and internally driven problems and issues," he says.
"They will be using current and emerging technology, or a blend of old world processing such as mold making and casting, that will allow students to hone and cross pollinate their skills. Multiple mediums of 3-D printing, CNC cutting and machining, laser engraving, a new scanning electron microscope, are only a few reasons that should make this space a centerpiece."
Future projects that have been identified include expanding the nursing building and remodeling the science building's lab spaces on the Redwood Campus; expand and improve Table Rock's emergency services/fire training classrooms; and create more flexible high tech learning spaces at the Riverside facilities.
Rogue Community College thanks the Meyer Memorial Trust, Boise Cascade, Medford Fabrication, Harris and Myrtle Dalbec Field of Interest Fund of the Oregon Community Foundation, the Warrick family, and Jackson County for their grants and donations that will also help to support the high tech center project.