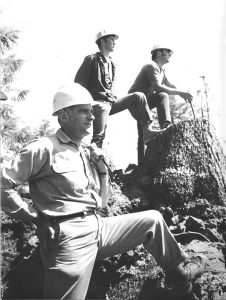 Rogue Community College (RCC) was established in 1970 by vote of the electorate of Josephine County after a long campaign effort by many supporters including Midge Renton, a local school teacher, and the founders of the College, Marjorie Holzgang, Bill Ford, and Phil Nelson. The mission was clear: RCC would provide quality education to help learners achieve their goals and to support the social, civic, cultural, and economic vitality of a diverse community.
The campus originally was constructed in the late 1960s as a federal training facility known as the Fort Vannoy Job Corps Training Center.
In the inaugural year (1971) over 1,000 students were taught by 13 full-time instructors. One of the first courses was horseshoeing, and timber industry jobs were a focus of education. "It was a bare bones operation," Phil Nelson recalled to the Grants Pass Daily Courier in 2011.
RCC provided a friendly, helpful atmosphere to serve a great educational need in the community. Henry Pete, the first president of the College, noted that faculty and staff got out of the classrooms and offices to help new and prospective students, a tradition that continues today. "We do things differently," he said.
Most of those first students were adults looking for a new start on life and had never set foot on a college campus, but now they had an affordable path to an education and a new career. Hundreds of thousands of students would follow in the footsteps of these RCC pioneers.
The College grew rapidly and, with the decline of the timber industry, it played an increasingly important role in retraining workers or providing students with transfer degrees to four-year schools. The Grants Pass campus of wood-framed buildings was remodeled in 1989, along with several more recently constructed buildings providing additional classrooms and modern laboratory space.
In 1996, voters in Jackson and Josephine counties approved expansion of the RCC district to include all of Jackson County for the purpose of providing a wider range of educational programs, job-training opportunities, and greater college access for students throughout the Rogue Valley. Today, there are three locations, Redwood Campus in Grants Pass, Riverside Campus in Medford, and Table Rock Campus in White City.
The reputation of the college continued to grow, and it entered into many alliances with healthcare organizations, government agencies, regional school districts, and Southern Oregon University (SOU). The combined resources of all of these partners resulted in the creation of the Higher Education Center—where students from SOU and RCC attend classes—in downtown Medford in 2008.
Just as in the beginning, RCC continues to thrive thanks to the support of the community and its recognition of the importance of a community college. As a show of that support, the voters recently passed a $20 million levy that has put the College on the threshold of major upgrades and construction of facilities on all three campuses.