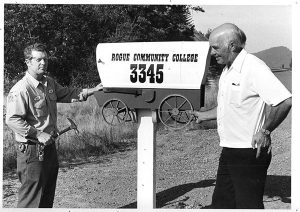 1969
"A small cadre of true believers," led by founder Marge Holzgang, and Midge Renton, Bill Ford, and Phil Nelson circulate a petition to approve a community college in Grants Pass.
1970
Voters of Josephine County approve the college on 84 acres of donated property on Redwood Highway in Grants Pass.
Original Board of Education is formed: Bill Ford, Midge Renton, Lyle Haley, Lewis Krauss, Bob Rust, Ben Wright, Marge Holzgang, and Anne Basker.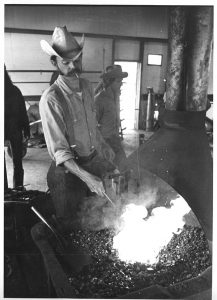 1971
RCC's first year of operation. 1,000 students enroll. Certificates earned include forestry, horseshoeing, fire science, janitorial, and waitressing.
1975
First computers are networked with Southern Oregon Educational Service District.
1978
RCC expands into downtown Grants Pass locations.
1979
Howard Sims, second RCC president.
1980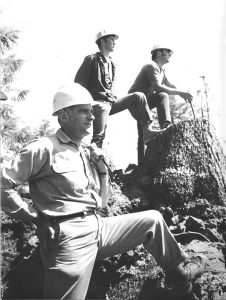 RCC Foundation is established.
1985
RCC opens Medford center in KOBI building.
1986
Harvey Bennett, third RCC president.
1991
An estimated 100,000 students have attended RCC by this 20-year milestone.
1997
Grand opening of the Riverside Campus in Medford.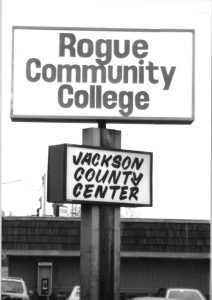 1999
Rick Levine, fourth RCC president.
2001
RCC turns 30.
2004
Peter Angstadt, fifth RCC president.
2006
Grand Opening of the Table Rock Campus in White City. RCC now has three campuses.
2008
Higher Education Center opens.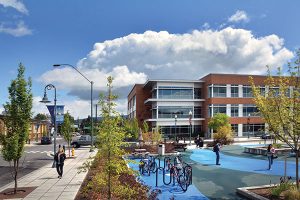 2009
Grand opening of the Illinois Valley Business Entrepreneurial Center and Illinois Valley Learning Center in Kerby.
2014
RCC launches Ospreys athletics program with soccer and cross country.
2015
RCC purchases a building next door to Table Rock Campus for the purpose of opening the High Technology Center.
Iconic flagpole on Redwood Campus is replaced in a Memorial Day event honoring U.S. military veterans.
2016
Voters of the RCC district approve a $20 million bond for upgrades of facilities and the construction of new buildings on all three campuses.
Cathy Kemper-Pelle, sixth RCC president.
2021
The College will celebrate 50 years of service to the community.