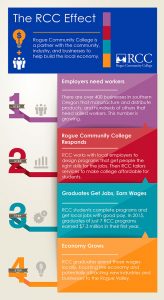 Rogue Community College (RCC) opened its doors to 1,000 students in 1971. Today, there are more than 17,000 students studying on three campuses. They have over 95 certificate programs and degrees to choose from in high-demand careers ranging from health care to mechanics, electronics, fire science, and business. In addition, half of RCC students are earning transfer degrees to go on to four-year universities.
RCC helps students succeed through many student success programs that track student progress to make sure they get placed in the right classes, and that they get the academic and financial aid advising they need.
RCC also works with community partners in business and education to create programs that fit the local job market. For example, the Allied Health Occupations department has developed 11 new training programs that prepare students for career jobs in health care in 12 months or less. And with over 300 local light manufacturing businesses in the Rogue Valley, RCC is currently developing a high tech training center to fill jobs in those businesses.
RCC students succeed
For 10 years running, RCC students who transfer to universities earn higher GPAs than transfer students from any other Oregon community college, and students who start at RCC and transfer to a university have higher graduation rates than students who start at the university.
The graduates of the 2015 nursing program had a 100 percent employment rate in the first six months.
100 percent of the 2016 graduates of the electronics program passed their certification exam on the first try.
RCC is good for the economy
In a 2015 statewide study, 98 RCC graduates in nursing, welding, automotive, diesel, and manufacturing  reported $3,751,439 in annual earning from wages.
In 2015, the 13 dental technician graduates earned $330,000.
The 29 nursing graduates of 2016 earned over $1.6 million in their first year.
Since 2013, the Small Business Development Center has assisted more than 1,300 business owners and entrepreneurs to acquire over $14 million dollars of new capital investment, and the creation of over 340 new jobs.
RCC is proud of these achievements, but there is always a need to do better. That is why RCC is currently developing new programs and degrees, and creating new training centers.