Rogue Community College (RCC) is happy to announce the selection of Randy Weber, Ed.D. currently Executive Vice President, Chief Student Success & Strategy Officer at Johnson County Community College (Kansas), as its next president.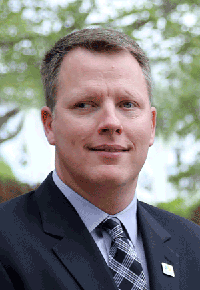 Following a unanimous vote of confirmation by all members of the RCC Board of Education present on Wednesday, March 23, Dr. Weber will become the college's 7th president, and will begin his tenure on July 1. 
A proven senior administrator, executive and thought leader, Dr. Weber was selected following an eight-month nationwide search led by a 20-member Presidential Search Committee appointed by the RCC Board of Education. The committee included a range of RCC District stakeholders including faculty, staff, students, board members, and community members. 
Dr. Weber will succeed retiring president Cathy Kemper-Pelle at RCC, an institution recognized for its accessibility to students, responsive partnerships with regional employers and industries, excellent career and technical programs, and strong student transfer success to four-year institutions. RCC's three campuses (Grants Pass, White City and Medford) annually serve over 6,800 students from Jackson and Josephine counties.
"Dr. Weber is a dynamic and innovative leader who is extraordinarily qualified to lead our college in the 21st century," said Roger Stokes, chair of the RCC Board of Education, in making the announcement. "Like many of RCC's faculty, Dr. Weber demonstrates exemplary academic accomplishments coupled with student-focused responsiveness, both honed during his years of administrative leadership at three other large community colleges."
Dr. Weber received an Ed.D. at Baker University in Overland Park, Kansas and began his educational journey at Barton County Community College in Great Bend, Kansas. As a first-generation community college graduate, Dr. Weber shared with RCC's Board that he "places high importance on the commitment to access and completion for all students," regardless of their background, challenges or aspirations.
Dr. Weber has fourteen years of cabinet-level experience overseeing student affairs, finance, administrative services, enrollment, and institutional effectiveness in community colleges in both Colorado and Kansas. His resume includes leading collaborative initiatives with an array of community partners that improved student success rates, lowered entrance barriers for students, and increased student satisfaction and retention.
 "Dr. Weber is bringing an inspiring vision for RCC just as our student enrollments are rebounding from the COVID crisis, which has affected all colleges," said Stokes. "He recognizes that higher education is changing and that the future of work, student career advancement and community economic strength lies in close ties between academic programs and real-world employment. He is a strong choice to lead RCC into an exciting future filled with promise and opportunity."
 "I am truly honored to be selected as the next president at Rogue Community College. I look forward to working with dedicated faculty and staff in supporting the students and communities we serve throughout Josephine and Jackson counties," said Dr. Weber. "Together we will continue to increase student success and effectively support regional workforce needs."
Johnson County Community College, Dr. Weber's current college, enrolls over 27,000 credit students and 25,000 non-credit students annually with approximately 3,000 employees and a $220 million operating and capital budget. At the national level, Weber has also served as a presenter and consultant on enrollment management and academic advising strategies for community college leadership conferences. 
Sharing thoughts about the institution he will be stepping in to lead, Dr. Weber said, "I believe in all this institution has achieved since opening in 1970, and also believe RCC's best days are yet to come. I know I am receiving the reins from an inspiring leader in Kemper-Pelle, who has strengthened an already expert team. I feel confident together, our team will achieve new heights in educational success." 
Reflecting on Kemper-Pelle's service to RCC, Stokes added, "Cathy Kemper-Pelle has devoted six years to RCC's success, and we are all better for her service. She has been a tireless champion for the college and our students, and we wish her a long and happy retirement."
"My time at RCC has taught me that this college is constantly evolving, while always remaining true to its mission. I am sure that Dr. Weber will find the faculty, staff, community and students excited for the future and ready to move the college forward," said Cathy Kemper-Pelle. "I wish him well, and I look forward to working together to ensure a seamless transition." In alignment with Kemper-Pelle's last day, June 30, 2022, a transition period will be undertaken with Weber.
To introduce Dr. Weber to students, faculty, staff and the community, RCC will host an informal event over the summer and again as fall term begins. Details on those events will be posted on the RCC website and in local press.
RCC was assisted in the search process by Gold Hill Associates, a community college executive search firm that has facilitated over 100 community colleges in searches for new presidents and executives.