RCC Small Business Development Center client nets top honor from nomination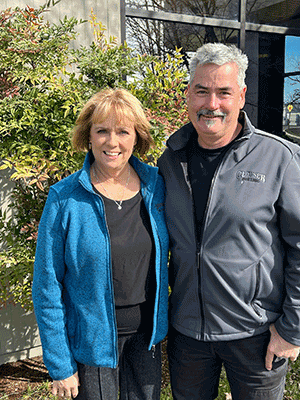 Josephine County – Selma native Kevin Gill and his wife, Helen, are set to receive a top honor from the United States Small Business Administration Portland District Office that serves 30 counties in Oregon and four counties in southwestern Washington.
Winning the only 2023 Family-Owned Small Business of the Year award for Oregon, the owners of Clouser Drilling in Grants Pass will be honored with a formal award ceremony at their place of business on May 2. Representatives from the SBA district office will officiate.
"We are very blessed and humbled to receive this award," said Gill. "I think this is really a credit to our entire Clouser team." Adding to her husband's comment, Helen noted that "our business partners have really helped us along the way as well."
One of those partners, Rogue Community College (RCC) Small Business Development Center (SBDC), is responsible for nominating the family-owned business. According to SBDC Director Ruth Swain, "The Gills' business leadership is a story of unparalleled commitment. Their local, regional and state leadership is stellar, and they give their time, talent and financial resources to better the people and communities they serve."
Clouser Drilling is a multi-generational family business, growing from "kitchen table" beginnings to become one of the largest volume well drilling companies in Oregon. Kevin and Helen purchased the business in 2012 from Kevin's parents Chuck and Carol, who had purchased the company in 1995 from Kevin's uncle, Leroy.
Building on his parents' values of integrity and quality, Kevin and Helen were driven to seek new business management skills when they took over the business. They began working with the RCC SBDC in 2006 by taking business development classes and working with business advisers on an ongoing basis.
Maximizing the mentorship of SBDC experts, who "provided an objective set of eyes and a dedication to our success," Kevin and Helen focused on expanding their networking and increasing marketing strategies. Under their shared leadership, the business has seen exceptional growth. Between 2019 and 2023, the company enjoyed revenue growth of 111.5% among many other positive business indicators.
The couple also prioritizes being an industry leader through state and national policy and legislation work. With Helen's support, Kevin serves as a statewide leader in setting standards of excellence and environmental protection. Kevin was a board member for 12 years and president of Oregon Ground Water Association (OGWA), "dedicated to protecting, promoting, & educating the public about groundwater." Kevin serves on the Government Affairs Committee and was named OGWA "Person of the Year."
Kevin has also served on the Oregon Water Resources Department's Groundwater Advisory Committee, Continuing Education Committee and Rules Advisory Committee. His contributions to the legislative work group modernizing the well construction program in Oregon resulted in HB 2145 legislation, protecting groundwater and raising competency for contractors. The Gills are also members of the National Ground Water Association.
Investments in state-of-the-art technologies, employee retention and a focus on debt management have allowed Clouser Drilling to nearly quadruple the business' annual revenues over a 10-year period.
But business success isn't the only accomplishment of the couple. Kevin and Helen emphasize that, "Giving back to others and the community is a core tenet of our business culture. We love our community!" They are regular supporters of youth activities, sports, civic clubs and charitable organizations.
The family business has already inspired one of the Gills' two adult children (Ryan and Emily) to jump on the train of success. Ryan Gill now serves as Clouser's vice president and continues the family tradition of working closely with the RCC SBDC.
Some might say RCC has been a pivotal factor in the family's trajectory in more ways than one. Helen and Kevin met on the RCC Redwood Campus as freshmen in 1985. Though Kevin went on to Western Oregon University for a degree in business and Helen went to Southern Oregon University for communications, they joined their lives and skill sets together to build a lifetime of success back in Grants Pass.