Did boxing legend George Foreman go to Rogue Community College? Well, not exactly.
Yes, it's true that George Foreman, the two-time world heavyweight boxing champion and Olympic hero, spent time on the RCC Redwood Campus, but that was back when the campus was a Job Corps site in the 1960s. But the Redwood Campus was where he found his path in life, just like RCC students today.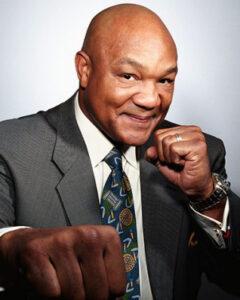 George Foreman spent six months at the Job Corps site, and reminisced with RCC Foundation director Judy Basker that his time here profoundly changed him. "Reborn," as he put it in his autobiography "By George." In a 2006 interview in the Grants Pass Daily Courier, he said, "When you hear me say 'Grants Pass, Oregon' it was like the beginning of me."
Originally from rural Texas, George admits he was a troubled youth and joined the Job Corps where he started boxing. He blossomed as a boxer and made the Olympic team. He went on to be a gold medalist in Mexico City in 1968. From there he went on to twice be the world boxing champion, and although he did not win, he faced Muhammed Ali in what many consider the greatest boxing match of all time, the "Rumble in the Jungle" in Zaire in 1974.
George went on to be a philanthropist, starting many youth centers, and a television celebrity known for his good nature.
Today, the Job Corps site is now the Rogue Community College Redwood Campus, where thousands of people have found their path and gone on to do great things — just like George.
RCC was founded in fall of 1970, and is celebrating its 50th anniversary. If you are an alumni and would like to share your story, email us at communications@roguecc.edu.