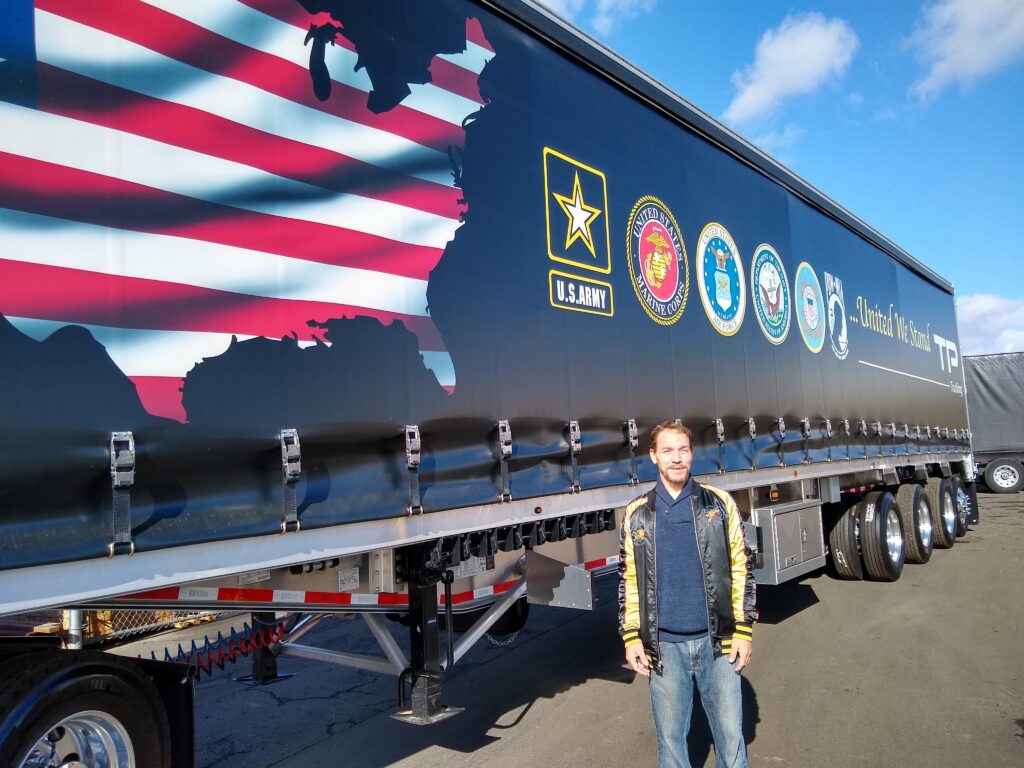 On Veteran's Day, Nov. 11, 2020, TP Trucking unveiled a new truck design created by Rogue Community College student Wrenn Arbouin. Arbouin's winning design was chosen from dozens of other designs submitted by students in RCC's Design & Digital Media program.
TP Trucking, a short and long haul trucking company based in Central Point, created the design contest as part of its campaign to honor and support current service men and women along with America's veterans while providing a creative opportunity for students to gain professional experience.
"I am excited to win the design contest for TP Trucking and looking forward to seeing my work on a semi-truck trailer that will be traveling around the USA," said Arbouin, adding that winning this contest affirms his decision to pursue a degree in design and digital media at RCC. "This will be a nice addition to my portfolio. I have made a lot of accomplishments since returning back to school and this was another huge payoff to my efforts."
A lifelong artist, Arbouin said he is "doing my best" to pursue it as a career. "I do freelance murals for local businesses and plan to keep building on my artistic endeavors as long as I'm above ground! I want to thank the RCC Visual Arts & Design department and TP Trucking for this opportunity to shine and encourage anyone to use their imagination and keep creating."
To prepare students for career employment, Design & Digital Media students work with local organizations like TP Trucking to produce professional design projects. Department Chair Heidi Lee Harless said local employers power the program. "We welcome partnerships with our local industry," she said. "Our students learn through hands-on experience from Rogue Valley employers through cooperative work experience, internships and collaborative partnerships. Industry leaders advise and guide our programs so that students gain skills for high-paying jobs."
Design students also create projects for local non-profit organizations. While learning state-of-the-art skills in graphic design and digital arts, students support organizations that often lack the funding for high-quality design and marketing materials that are vital to their outreach and success. It provides the opportunity for students to collaborate with others in their new career paths and give back to their community.
Anyone with interest in partnering with RCC's Design & Digital Media program should contact Heidi Lee Harless at hharless@roguecc.edu.