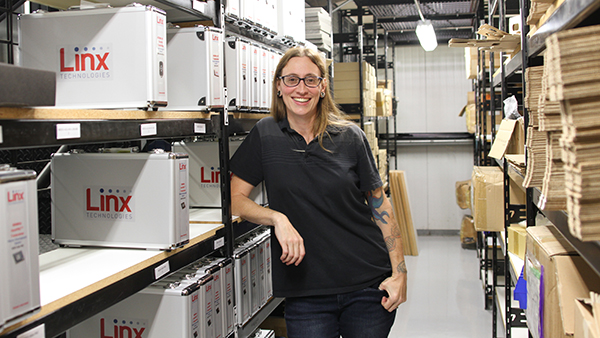 Jessica Simpson already had a bachelor's degree, but when she needed additional training in a new career field, she signed up for classes at Rogue Community College.
"I came to Linx Technologies with a mechanical engineering degree, which did not really focus on electronics, so I was lacking in knowledge about what we do here," conceded Simpson, operations manager for the Merlin-based wireless components company. "My first instinct was to return to RCC and take some electronics classes."
The community college first helped Simpson find her path a decade earlier.
"The journey to where I am today all started with my first class at RCC," Simpson said. "I never even knew before I went to RCC that I had any sort of mechanical aptitude, and it's taken me so far since then."
A Louisiana native, Simpson moved to the Rogue Valley after discharge from the Navy. She wasn't sure what her next step should be when her mother suggested she learn how to fix cars. "I didn't even know how an engine worked when I started the [RCC automotive technology] program," Simpson recalled. "Now I can completely repair any car you give me, and I got all that from RCC."
Working as an auto mechanic, Simpson discovered she was interested in engineering design and enrolled at University of Nevada, Las Vegas to earn a mechanical engineering degree. After graduating from UNLV, Simpson returned to Louisiana for a few years then "ended up moving back to the Rogue Valley – because you can't stay away from the Rogue Valley."
She took a job overseeing production and the warehouse for Linx Technologies, a company that designs and manufactures wireless components including antennas, connectors and remote controls. In her new position, Simpson wanted to know more about electronics so she could keep pace with the company's engineers. "Sometimes they like to talk over my head, and I don't like that," Simpson said.
She felt more confident after taking a couple classes at RCC, including mechatronics. "Having attended classes in both the automotive program and the electronics program, I can vouch for the teachers there," Simpson said. "They're fantastic."
She appreciates the community college's small class sizes and its dedicated, knowledgeable and caring instructors.
"Whenever I meet anyone who's considering going to college, I always recommend RCC," Simpson said. "It's affordable, it's accessible and it's right here."
For those considering their next step, RCC has advising and career services staff in both Jackson and Josephine counties who can help students find their path. "Even if you don't know what you want to do, there's somebody there who will help you figure it out," Simpson said.