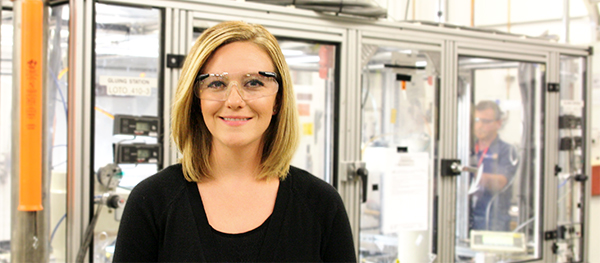 Nichole Bogart has worked at Carestream for nine years, initially connecting through a temp agency then joining the staff at the White City manufacturing facility. She advanced to several different roles before landing a position in quality control.
With her sights set on moving into management or an engineering position, Nichole realized she needed to go back to school. "At my level, the only way to go up is with a degree," she said.
Nichole began taking classes at Rogue Community College during winter 2017-18 with a goal of completing an Associate of Arts Oregon Transfer (AAOT) degree, then transferring to Southern Oregon University. The RCC Riverside Campus is convenient to her home and work, and completing two years at the community college will save Nichole thousands of dollars on tuition.
"I started at RCC to complete my prerequisites due to cost," she said. "It's about half the cost of going to a university."
RCC offers many online courses, which helps the working mother balance her busy schedule. "I've noticed that certain classes I can do well online, and others I need the face-to-face instruction," she said.
Initially returning to school was a little daunting, but RCC's instructors have been "awesome," Nichole said. "They would stay late, come in early. If I need help, they're there."
Among Nichole's support team is her employer, which facilitates her education by allowing her to work flextime.
"Carestream has supported me going back to school by working with my hours. They're very flexible," Nichole said. "Last term I needed to leave at noon for a class, so I would leave at noon on those days, and then on the weekends or evenings, I'd be able to make my time up."
Carestream, a leading producer of medical X-ray film, employs about 350 people locally and more than 4,000 in 170 countries worldwide. As such, the company offers a wide range of career opportunities, from the production line to sales to chemistry and engineering.
"I think that a college education is important to us, certainly as you're going through your career," said John Stewart, the finishing product engineering supervisor who oversees Nichole. "I've worked at this factory for 37 years and I've probably had 12 different jobs. A college education does a good job of preparing people for the changes in the work that they have to do."