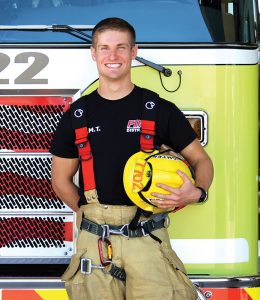 Patrick Bailey
Patrick Bailey is the youngest firefighter ever hired by Jackson County Fire District 3. At 21 years old, he has seen more action than most people three times his age—and he loves his job.
"Raft rescues, rope rescues, vehicle extrications, structure fires, and even delivering babies—I could be a part of these on any day I go into work," Patrick says. "How could that not put a smile on your face?"
Patrick's expertise and passion for service is a result of Rogue Community College's dual program in Fire Science and Paramedicine. These two skill sets combined equip him to serve his community in a wide range of emergencies.
"We see people in their lowest of lows," he says, "but we come in, assess the situation, make it better, and we put a huge amount of customer service into this job."
Ray Maurer
EMS graduate Ray Maurer is a member of the Emergency Department team at Asante Rogue Regional Medical Center in Medford. He enjoys the fast-paced environment, where EMTs work alongside doctors and nurses to care for people when they need it most.
"School prepared me for a career by not sugar-coating things," Ray says. "All the instructors were very up front and went to great lengths to advise me about the realities of being in the field."
During his early clinical and ride-along experiences with local EMS providers, Ray gained a new appreciation for the men and women who dedicate their service to the public. Now, after completing rigorous training at RCC, Ray is proud to call them his colleagues.
"I believe the program changed my life. I feel empowered to make a difference in the community," Rays says. "Every day we help make someone's life better. It's the best job in the world."