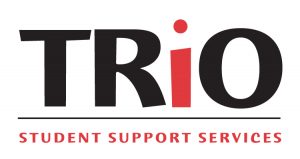 Through TRiO, Rogue Community College has helped thousands of southern Oregon students get into and complete college. These federally-funded programs are designed to motivate and support low-income, first-generation students and students with disabilities in their pursuit of a college degree.
TRIO programs provide academic tutoring, personal counseling, mentoring, financial guidance, and other supports necessary for educational access and retention.
TRiO Educational Talent Search (ETS)
Serves students in Jackson County at target middle and high schools. TRiO ETS assists qualified students to prepare to go on to a 2-year, 4-year or professional/technical college.
ETS is important because getting ready for college requires planning and making important decisions. Starting in middle school, ETS provides learning and guidance all the way through high school graduation to ensure students stay on track and make it to college. Learn more at www.roguecc.edu/TRiOETS/
TRiO Educational Opportunity Centers (EOC)
Serves adults in Jackson and Josephine Counties. TRiO EOC provides services to adults and high school seniors who want to continue their education beyond high school or who want to obtain a GED.
To take advantage of TRiO EOC services you must be a U.S. citizen and qualify according to one of the following: a veteran, low income; or a first generation student (your parents did not earn a 4-year college degree).  Learn more at www.roguecc.edu/TRiOEOC/
TRiO Student Support Services (SSS)
Serves students enrolled in courses on the Redwood Campus of Rogue Community College.  TRiO/SSS assists students who intend to transfer from RCC to a 4-year college or university.
TRiO/SSS offers help to create a successful transfer plan to a 4-year college or university; raise your GPA; increase test scores, or overcome academic difficulties. Learn more at www.roguecc.edu/TRiOSSS
Want to be a TRiO student? Call us today at 541-956-7342.