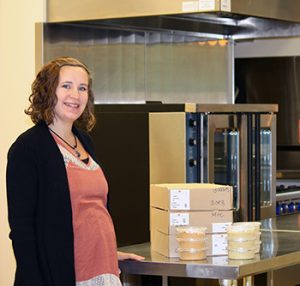 The Entrepreneurs Commercial Cookspace (ECC) is a fully equipped, modern and professional kitchen at RCC that provides future business owners like Gabby Taylor, owner of Organic Harvest, a place to develop and operate a successful business within the food industry.
ECC strives to provide support for the community's entrepreneurs by assisting individuals develop, launch and grow their food business. ECC understands the difficulties that are faced with starting a food business and the expenses of designing and setting up a commercial kitchen, and hopes to provide an opportunity for entrepreneurs to pursue their venture by significantly reducing startup expenses.
Taylor has been in the food industry on and off for eight years, and was looking to launch her own business. She has always enjoyed feeding people and loves the fast-paced work environment. Taylor has utilized ECC for nearly a year and has expressed that the program has helped her overcome many challenges, while providing her the tools needed to expand her product into many store locations.
"I absolutely recommend this cook space, it's a huge clean kitchen. But also the staff here are amazing and have helped me to expand and even organize my finances," Taylor stated.
The kitchen provides several benefiting amenities, including a commercial stove top, convection ovens, refrigeration units, a freezer, food preparation equipment, and is regularly inspected by the Josephine County Health Department.
"I love coming to work, I truly enjoy providing such an amazing local product to the public. I couldn't ask for a more fun and satisfying job," Taylor said.
For a complete list of amenities offered visit the ECC webpage.