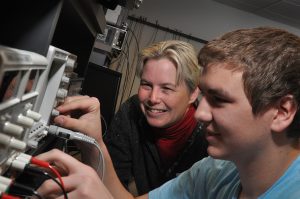 Hi, this is Ann Trausch at Rogue Community College and I teach in the electronics department.
And people ask me what's the difference between electronics and electricity all the time.
Well, electricity is about the generation, distribution, and use of electrical energy.
This energy is used to charge our cellphones, power the lights, computers, cars, washers and dryers and many more devices in our daily lives.
Well, electronics is about control and you'll find electronics in a variety of applications including audio, biomedical, industrial control, consumer products, and anything programmable and very much more.
Where we harvest electricity with devices called components and we use embedded systems to monitor and display on LCD screens to sensory inputs to turn on our motors, fans and lights as an example.
We study all of these systems and very much more in our electronics department at RCC.
And our graduates are employed in many industries in the Valley and elsewhere.
If you're interested, call RCC today or visit us at our Grants Pass or White City campuses.