Community partnerships and hands-on experience are key to many Rogue Community College career technical programs, including the fire science program where student firefighters often work alongside career firefighters as members of an engine crew while completing their degree.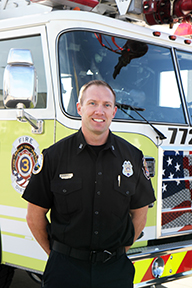 That on-the-job experience helps set RCC graduates apart, according to Capt. Ben Kennedy with Jackson County Fire District 3. RCC has "one of the best fire science programs in the state of Oregon," Kennedy said. "You get hands-on experience that you might not receive in other programs."
Kennedy knows the program well – he earned his degree through the RCC fire science program and is now an adjunct faculty member in addition to his duties with Fire District 3. RCC offers several certificate and degree programs that prepare students for various fire science careers. The average annual wage for firefighters in Oregon is $62,530, according to the U.S. Bureau of Labor and Statistics.
"We have several [firefighters at Fire District 3] that have come out of the program and they're ready to work day one coming out of the fire academy," Kennedy said. "RCC is preparing these students to become top of their field, teaching the most up-to-date technology and information, making them the most prepared to go into the real world and really have that real-world firefighting experience."
A starting point for many students is the RCC Firefighter I Academy, an 11-week program designed to provide the student with the necessary knowledge, skills and abilities to function as an integral member of a firefighting team. Classes meet at the White City Training Center owned by Fire District 3 as well as the Hillcrest Fire Station in Grants Pass and other field locations and the program uses instructors who are employed with various local fire departments, which allows the college to bring the most up-to-date training to the student.
Most students in the fire science programs are actively engaged in a student firefighter program with one of the many fire departments in Jackson and Josephine counties. When not attending school, most student firefighters work an average of 10 days a month as a third or fourth member on a fire engine.
"Fire District 3 is very fortunate that we have a college nearby that can give students an opportunity to gain that experience while in school," said Ashley Blakely, public information officer for the district. "A lot of these RCC students not only get hired locally here at the district or within the county, but they've also been very successful within other parts of the nation as well."