In 1970, Mary Slayter was already a role model for young women. She spent a decade earning two college degrees while raising three children, eventually securing a full-time teaching job at Grants Pass High School. Mary believed in the power of education. Which is why, when Rogue Community College opened its doors, Mary wanted in.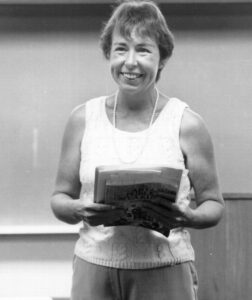 "I enjoyed teaching at Grants Pass High School, but the prospect of helping create a whole new level of education for our community was tantalizing, so I put in my application and was hired as chair of the English and Humanities department," Mary said.
"There was such a purity about our mission at the beginning of the college," Mary recalled. "Our president, Henry Pete, talked about the 'worth and dignity of the individual' being a cornerstone for our institution, and it seemed like that belief permeated RCC's development."
Mary described RCC's founding faculty members as "young and idealistic." College administrators trusted them and encouraged them to develop courses and programs that would improve life for students and the community. "We were like aspiring chefs trying to decide on a menu," Mary said. "We wanted to find out which dishes our students would need, which the community would have an appetite for, and which we knew how to make."
Among those young "chefs" was Dick ("Doc") Holliday, a former math teacher at Grants Pass High School who had since moved on to a computer analyst position with Boeing in Seattle. When Doc learned a new college was being built on the old Job Corps campus back in Grants Pass, he called Henry Pete for an interview.
"Computers were a relatively new concept in public education, and I think it was very instrumental in my being hired as Math department chair," Doc said. "College teaching had been my ultimate goal in education, so it was back to Grants Pass!"
Both Mary and Doc recall the excitement—and inherent challenges—of those early days.
"My most memorable time was our first staff meeting," Doc said. Back then the staff consisted of only 15 people—of which, at age 36, Doc was one of the oldest. "After touring the campus for the first time," he said, "the magnitude of the job set in."
Doc remembers the only "furniture" in the classrooms—formerly the old Job Corps dorms—were toilets and sinks. While facilities staff worked to prepare the buildings, founding faculty members had just over two months to write course descriptions and get them approved by the state, plus select textbooks and hire part-time instructors.
Several vocational programs required math and humanities courses, so Doc and Mary had to design this curriculum from scratch with insight from the vocational instructors. They wrote specialized, hands-on courses for welding, forestry, automotive, early childhood education, business and nursing students. And, Doc said, "I also found out that in addition to being Math chair, I was to be the temporary Science chair, too!"
"Every RCC employee was fired up to help make the college a success," Mary said. "Cafeteria workers, switchboard operators, the maintenance department crew, secretaries, faculty members, student services folks, business office staff, administration officers, part-time instructors—we all felt that we had an important contribution to make, and that feeling undergirded our ability to move into the abandoned Job Corps facility in June and welcome students to classes in September. As I look back on those hectic early days, I realize that the collective zeal of the founding faculty members must have been what inspired us to work long days throughout the summer without pay. We didn't even ask about it; we just did it."
When RCC opened its doors, the average student age was 39 and the average faculty age was 33. "It was a heady time to be involved because we had extraordinary students—local people who had wanted to go to college for years but had not been able to because of job and family and distance constraints," Mary said. Many of those students went on to receive "outstanding student" awards at transfer universities, often earning higher GPAs than their peers.
From the outset, Mary recalls, RCC's president promoted the idea that RCC was unique. "He promised the taxpayers that if twelve people in the community wanted a particular class, RCC would try to offer it, so we were able to schedule classes that allowed the faculty to keep learning right along with the students," she said. This commitment came to fruition over the years as RCC's course selections grew from standard math, science and humanities classes to specialized topics including computer science, Oregon literature, novel writing, Japanese, dream journal writing, pottery and much more. RCC also branched out to provide enrichment opportunities for high school and grade school kids, such as a popular summer workshop in computer coding.
"What I remember most about working at RCC from its inception is the shared enthusiasm for learning among faculty, administration, and students," Mary said. "Almost unanimously, we believed in the ability of education to change lives and make our world better."
Faculty worked to ensure other staff and students would appreciate a wide spectrum of fields of study. In 1973 the English department created an elaborate composition program that highlighted a different academic or vocational department every two weeks. "Much to our amazement, we persuaded colleagues and administrators to block out a time in the college schedule when no other classes were offered, so everyone on campus could attend presentations required for our writing students, but designed, also, to create a common focus for discussion on campus and generate goodwill among colleagues, students, and community members," Mary said. "The public was also invited to the bi-monthly presentations free of charge, and we published a collection of the resulting student papers each term."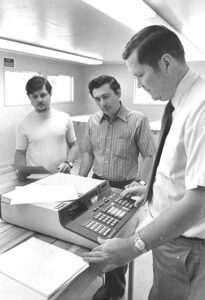 Likewise, one year Doc's Math department organized a Faculty Fair where each department of the college created displays that highlighted their program's projects to the rest of the staff. This camaraderie and mutual respect among departments remain important characteristics of RCC's environment today.
On a less serious note, Doc remembers one of RCC's greatest claims to fame had very little to do with math or English. "We got national recognition for our 'Creeper Race' one year," he said. (A creeper is a four-wheeled cart used in automotive garages.) "We were honored as the weirdest race of the year. Incidentally, I won the faculty division."
Beloved and respected by staff and students alike, Doc's and Mary's tenure spanned three decades. Both were granted rewarding opportunities throughout their careers, including Mary's Fulbright Fellowship to study in Chile in 1990, and Doc's visiting lecturer positions with the University of Massachusetts and Suffolk College in England, among other exciting adventures. The two long-time colleagues married in 1989. When they both retired 10 years later, Mary continued teaching part-time until 2004 because she "hated to cut ties with RCC completely."
What are Doc and Mary up to now? They're enjoying retirement with their combined family of six children and 12 grandchildren (plus one great-grandchild!), still volunteering in the community, and traveling whenever they can. "We've taken biking trips in Prince Edward Island and Quebec, a cruise through the Panama Canal, a Baltic Sea trip, a Road Scholar trip to Brittany and Normandy, a trip to Italy with some of our kids and grandkids, and an Alaskan cruise with some of our other kids and grandkids," Mary said. In other words, this amazing couple shows no signs of slowing down.
"Doc and I both talk about what a privilege it was to get in on the start of RCC as founding faculty members. It seems like a rare thing to be given a blank slate to help create a whole new institution," Mary said. Today they live just a few miles from campus, and they pass the college entrance every time they drive into town.
"We feel proud and happy when we realize what a contribution RCC has made to our community. We are personally grateful for the help of RCC students who have become nurses and auto mechanics and dental hygienists, and we enjoy visiting with other former and current students at restaurants and art shows and plays and concerts," Mary said. "They have enriched our lives and the lives of our community."
Doc and Mary—you have enriched ours, too.
To learn more about how you can find YOUR path at RCC, visit us online at roguecc.edu/gorogue.