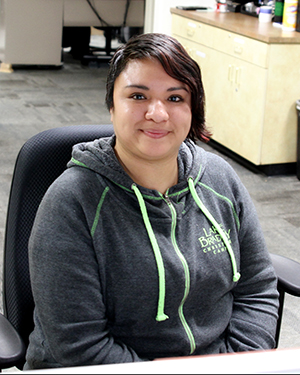 Jocksana Corona is an honor roll student and familiar face on the RCC Riverside Campus, where she's worked at the Counseling Department for the past three years. The 33-year-old is also a busy wife and mother, the kind who volunteered at her child's preschool and served as president of the elementary PTA.
Just before spring break, Jocksana completed her two-year transfer degree at Rogue Community College. She starts this term at Southern Oregon University, working toward a bachelor's degree in human services.
Jocksana is driven to help others, particularly those in disadvantaged populations, but she's uncertain whether she'll be able to have a career in her chosen field. That's because she's an undocumented immigrant, one of more than 11,000 DACA recipients in Oregon who were brought into the U.S. as children.
Deferred Action for Childhood Arrivals, or DACA, was introduced by President Obama in 2012 as a stopgap to shield people from deportation if they meet certain criteria. The program does not provide a pathway to citizenship, but it allows recipients to receive work permits for renewable two-year periods. The program's fate is uncertain: President Trump moved to rescind the program in September 2017, but court action has provided temporary protections.
Jocksana has been negotiating an uncertain future all her life. "The DREAM Act has been talked about since I was in high school," she says. "Being naive, I believed it would happen and I would go to college the next year."
Jocksana was born in the state of Puebla, Mexico. She hasn't been south of the border since she was 4, but people sometimes tell her to "go back to your country." To some, it doesn't matter that she grew up in California or, she says, that her birth was conceived in the U.S. What matters is that her father wanted his children to be born in Mexico.
Jocksana shakes her head at the decision. "He obviously felt he had opportunity here. He owned his own business," she says. "But he was proud of being Mexican. Too proud, I would say."
After Jocksana's birth, her mother returned to Los Angeles and left the baby with her grandmother and older sister in Mexico. She retrieved the girls when Jocksana was 4 and her sister 6, bringing the sisters to the U.S. Not long after, their parents split up. Jocksana's father returned to Mexico. He would visit every once in a while, stay for a few days. She hasn't seen him in 22 years.
Meanwhile, the family struggled. "Being undocumented, you couldn't ask for help," Jocksana recalls. "Whatever we had for lunch at school, that was our meal for the day."
School was a refuge for Jocksana, who describes herself as an honors student in high school, busy with clubs and business manager of the yearbook. "I was so involved with my school," she says. "I was in every club that there was. It was my escape."
Her family faced homelessness with her mother unable to work legally, and struggling with alcohol and drug abuse. Jocksana dropped out her junior year to work, allowing her sister, a senior, to graduate on time.
"When I tried to get back to high school, I couldn't register," Jocksana says. She couldn't provide the paperwork to prove residency. "Everybody knew who we were. I'd been in the same school district since kindergarten, but I couldn't legally register."
She learned about a program through the University of Oregon that allowed her to complete her GED. The program, now defunct, paid for a Greyhound ticket to Eugene and put her up in a dorm for three months. That's where she met her husband, a UO student, whose parents took her in after the program ended.
She wasn't able to work because of her immigration status. Supported by her husband and his family, Jocksana kept busy for the next decade raising their two kids and volunteering "everywhere" – the Oregon Child Development Coalition (Head Start) in Ashland, the Talent Elementary School PTA, Northwest Seasonal Workers, Dunn House.
"I couldn't legally work, but I could still give back to my community," Jocksana says. "I'm not somebody who does nothing."
A door opened when DACA became available in 2012, allowing an estimated 800,000 undocumented immigrants the ability to work and study in the U.S. DACA recipients aren't eligible for federal financial aid, and scholarship opportunities are limited, and Jocksana is proud that she was able to complete her associate degree entirely without loans.
"When I started here (at RCC), I worked two jobs to pay for tuition," she says.
The next year, she was grateful to receive scholarships from the RCC Foundation and the American Association of University Women (AAUW), which allowed her to drop one job and increase her course load. A scholarship from the Ford Family Foundation will cover her expenses at SOU.
Jocksana's plan is to pay it forward.
"When people ask me where I want to work, I just want to help people," she says.

"I would like to become a legal citizen. When people tell me to go back to my country, this is my country. This is where my life is."