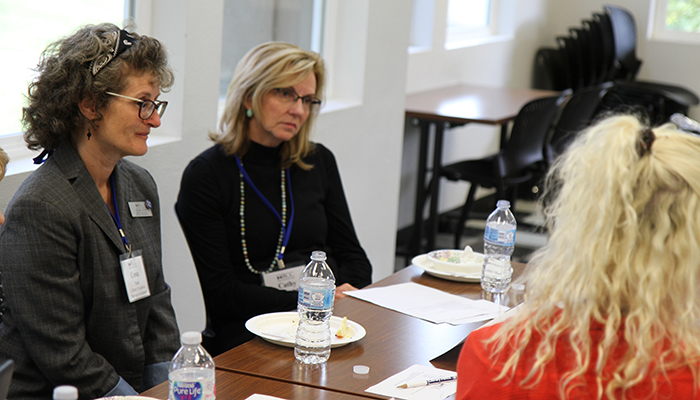 In the fall of 2017, with a full year as college president under her belt, Cathy Kemper-Pelle initiated a campus luncheon series to create an opportunity for "meaningful dialogue" among RCC employees.
Once a term on each campus, the president hosts an informal luncheon for a dozen guests. All faculty and staff are welcome; registration is on a first-come, first-served basis.
As a starting point, Kemper-Pelle initiates a discussion that centers on the college's mission, vision and values – integrity, collaboration, inclusion, stewardship and courage. They're more than words on a wall, she insists; the president is determined to create a work climate wrapped around the college's values.
"If you don't know your values, how do you make a decision?" Kemper-Pelle asks.
At a fall luncheon on the Redwood Campus, participants discussed strategies for improving student access and success. Ideas ranged from re-evaluating the best times to offer classes to linking interdisciplinary courses so that, for example, students taking an automotive technology course linked with applied English would allow students to write about their passion for internal combustion engines. (Or, how to write a coherent work report.)
"We have to be courageous enough to try new things and if we fail, we learn," Kemper-Pelle said, harkening back to the college's values.
At each luncheon, the discussion evolves depending on the attendees and their interests. In four sessions, topics have included suggestions for how the campuses can be more welcoming for night classes, how to lower textbook costs, updates on construction projects and how to streamline the application process.
Career Services coordinator Joe Anderson, who attended the February luncheon, was particularly interested in a discussion about whether graduation rates are the best measurement of accountability and student success. "What if a student is able to take a class or two to gain the skills that they need to get a job?" he posited later in an interview. "It was a really rich conversation."
Kemper-Pelle says the feedback she's received from the luncheons has been positive and she plans to continue offering the program. The last meeting was April 18 at Table Rock Campus. Watch for an email for future dates.