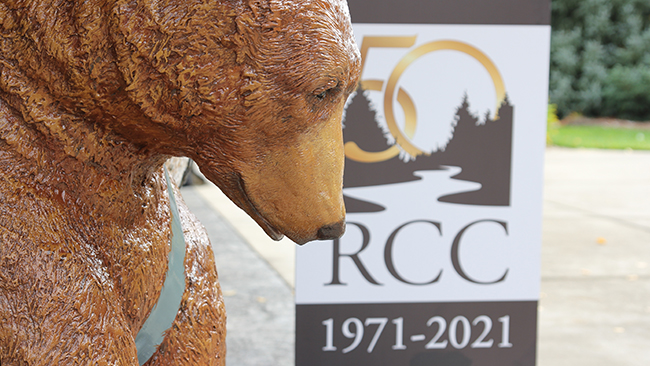 GRANTS PASS — Evergreen Federal Bank unveiled the latest addition to its BearFest family today (Oct. 22, 2021) in honor of Rogue Community College's 50th anniversary. The studious bear, hunched over a book, is accompanied by an osprey pal — the college mascot — with a common interest: "How to Fish."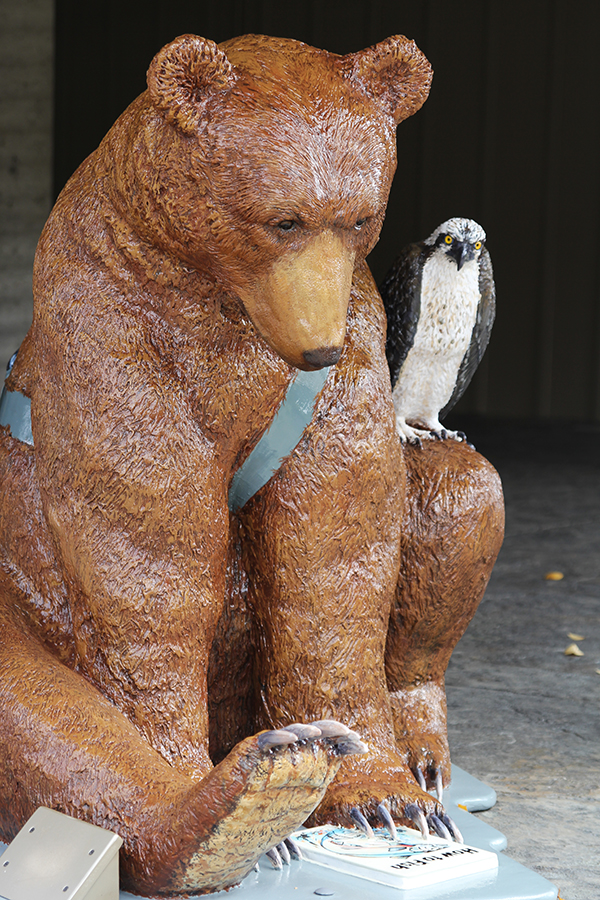 The Confederated Tribe of the Siletz Indians participated in naming the pair. Itskut, the bear, is talking with Shakshak, the osprey or fish hawk. "Everyone, even the experts, can learn something new."
Created by Gold Hill artist Bob Eding, the sculpture is on permanent display outside the Redwood Campus Wiseman Building. "I wanted to create a bear that honors friendship and learning," Eding said. "RCC has been a friend to many of us living in the Rogue Valley." 
RCC was founded in 1970 and held its first commencement in 1971. The college celebrated its 50th anniversary throughout the 2020-21 academic year. In the works for about two years, plans for the bear were delayed by the COVID-19 pandemic. The college plans to fill a time capsule by the end of 2021 to mark the end of the festivities. 
"On behalf of Rogue Community College and the Board of Education, I want to express my heartfelt thanks to Evergreen Federal Bank for making this beautiful bear happen," said President Cathy Kemper-Pelle during the small unveiling ceremony.  
"We appreciate the value you place on education in our community," Kemper-Pelle said, noting the bank's longtime partnership with providing student scholarships. "I feel like together, through education, we're able to promote economic development starting with one person at a time. We share that goal, that philosophy." 
Evergreen's Marketing Director Melissa Vierra remarked on the college's impact throughout the Valley. "So many of us who work at Evergreen have attended this college, our president, our vice president. I myself started here," she said. "I want to thank [RCC] for 50 years of serving the community because we can all find our career path while staying in the community that we love and call home."
RCC adjunct instructor and indigenous elder David West reached out to the Siletz for help naming the artwork. In the chinuk wawa jargon, Itskut is the word for bear and Shakshak means osprey or fish hawk.
Itskut is wearing a backpack filled with school supplies and a stash of sardines. The sculpture is the 191st bear Evergreen has sponsored since launching the BearFest public art project in 2003.