Are you interested in making a career jump that will change your life in just five weeks? Come learn about truck driving at Rogue Community College.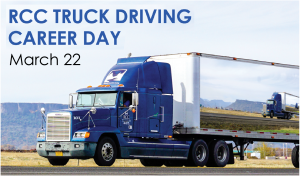 The RCC Continuing Education and Workforce Development department is presenting a Truck Driving Career Day on March 22 at the RCC Table Rock Campus, 7800 Pacific Ave. in White City. This free event will explore what it is like to be a professional truck driver as well as employment opportunities driving both locally and on interstate long-haul routes.
Drop in between 11 a.m. and 1 p.m. to meet RCC's two new commercial driver's license (CDL) instructors, Cedar Shannon and Ken Collins, as well as representatives from A&M Transport, F.V. Martin Trucking, Professional Transportation Services, Schneider, and TP Trucking. Several companies will have trucks on-site.
Presentations will begin at 11:15 a.m. and 12:15 p.m.
In just five weeks, the RCC Commercial Truck Driver Training program prepares students for work in this in-demand industry where full-time drivers earn annual wages of $40,000-$55,000 for local routes and $45,000-$60,000 for over-the-road (OTR) interstate routes.
The next sessions of classes begin April 1 and May 7. The total cost of the program is $4,009. Financial assistance may be available through WorkSource Rogue Valley. A WorkSource representative will be at the event to provide information. The Oregon Trucking Association offers a low-interest loan with no minimum credit score requirement.
"Driving has provided me stability and flexibility in times where other industries were suffering," said Shannon, one of RCC's new CDL instructors. "I'm looking forward to paying my experience forward."
Shannon drove trucks for Core-Mark for 13 years. He has experience driving local routes as well as night runs from Grants Pass to Portland with both double and triple trailers.
Collins has 38 years of experience in the transportation field, including work as an owner operator, 10 years driving and instructing for the Army National Guard and 13 years as a CDL examiner for the California Department of Motor Vehicles.
For more information about Truck Driving Career Day or the RCC Commercial Truck Driver Training program, call 541-956-7303.